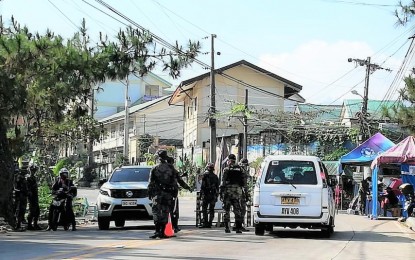 BAGUIO CITY – The city government on Thursday said that essential travelers do not need to present a negative reverse transcription-polymerase chain reaction (RT-PCR) or antigen test result if they have a certification that they have been fully vaccinated.
Aileen Refuerzo, chief of the Public Information Office (PIO)-Baguio, in a telephone interview, said the test result requirement, either an RT-PCR or a rapid antigen test, is required only for those entering the city not fully vaccinated.
She, however, cautioned fakers that the city government uses equipment to verify the authenticity of the documents presented.
Earlier, several people have been criminally charged by the Baguio City Police Office (BCPO) for using and submitting fake documents. This is aside from around 900 people made to turn back after they were not able to present the necessary documentation.
Refuerzo said that individuals with vaccination certificates who need to travel to Baguio for essential purposes must not have any of the coronavirus disease 2019 (Covid-19) symptoms.
The city only allows essential travel with proof of the claim for essential travel. An Authorized Person Outside Residence (APOR) must also show proof such as an itinerary signed by the company or the agency or a travel order from a government office.
Travel to the city for medical reasons must have a confirmed appointment with a doctor or a confirmed appointment issued by a medical facility.
Upon arriving at the border checkpoint, the document will be checked and the vehicle will be escorted to the central triage of the city where verification of the authenticity of the document as well as a physical assessment of all the passengers in the vehicle will be done.
"Fully vaccinated persons who are symptomatic upon triage will be required to undergo the tests," she said.
The requirement was based on the Executive Order of the mayor that tightened the entry protocols in the city due to the continuing surge in Covid-19 cases.
As of Sept. 29, the city has 4,659 active cases as 364 new Covid-19 cases were recorded. (PNA)