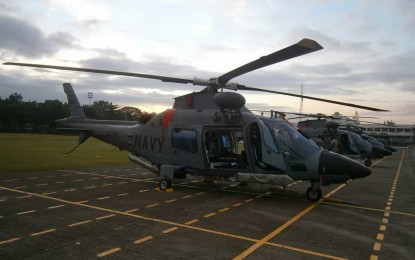 MANILA – The Philippine Navy (PN) on Sunday confirmed that one of its AgustaWestland AW-109E "Power" helicopters has figured in a landing mishap and investigations are now ongoing to determine the exact cause of the accident.
"We are conducting a thorough and exhaustive investigation to ascertain the cause. These actions are all geared at shedding light on the incident and to prevent a future occurrence. International experts from (Agusta) are assisting in the matter of investigation," PN chief Vice Admiral Adeluis Bordado said in a message to reporters.
The AW-109E with tail number NH-435, which was involved in the mishap, is undergoing assessment and is part of the ongoing investigation.
"All AW-109 units are grounded as a matter of procedure," Bordado said.
The PN chief said this AW-109 helicopter figured a mishap around 2 a.m. of September 26 in Lal-lo, Cagayan.
"The incident happened when the aircraft was attempting to land on its designated station after it returned from conducting a mission in support of Northern Luzon Command's internal security operations," Bordado said.
He added the pilots and crew sustained "very minor" injuries and only stayed in the medical facility as a matter of medical procedure.
The PN has five AW-109s in its inventory which were delivered from 2013 to 2016.
The PN's AW-109E contract for five helicopters, including the two armed units, is worth PHP1.33 billion.
The AW-109 "Power" is a three-ton class eight seat helicopter powered by two Pratt and Whitney PW206C engines.
The spacious cabin is designed to be fitted with a number of modular equipment packages for quick and easy conversion between roles. (PNA)