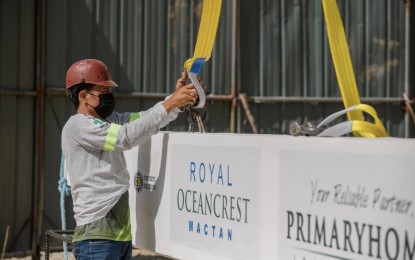 CEBU CITY – With billions worth of infrastructure developments in Cebu, the outlook for real estate investment here remains promising and is expected to boost employment opening in the construction labor pool, an industry leader said.
Ramero Espina, vice president for sales and marketing of Cebu-based developer Primary Homes Inc., said returns on condominium and rental investment remain promising, thanks to the big-ticket infrastructure projects taking shape in the country's hottest property market outside the capital.
"The future looks good -- new projects have started construction, home buyers and investors are checking out residential projects, interest in financial literacy has generally increased," he said in an interview on Monday.
Aside from the current property investors both here and abroad, Espina said they hope to influence the younger generation to explore real estate investment with flexible financing now offered by developers.
"We've also observed market acceptance for residential investment in some of Cebu's neighboring places that PrimaryHomes would want to cater to as well. An example would be Panglao Island in Bohol, which also has growing economic activities like Cebu," he added.
When sought for comment, Joey Bondoc, associate director for research of Colliers International Philippines, said investors looking to purchase residential properties should consider projects close to upcoming infrastructure developments, including the Cebu-Cordova Link Expressway, which is scheduled for completion in 2022.
Bondoc also urged developers to continue providing flexible and innovative payment schemes to attract more buyers and market to overseas Filipino workers.
Colliers has observed innovative sales strategies being employed by developers to boost condominium sales, including stretched payment terms and lower down payments, perks like free appliances and hotel stays, and even gadgets.
But on the whole, the condominium real estate sector's recovery largely depends on the success of the government's vaccination program and the eventual recovery of the economy.
With developments of residential and commercial properties here continuing, construction jobs are also expected to remain in demand.
Primary Homes has about 2,000 construction-related workers from its affiliates that are involved in all its projects in the provinces of Cebu, Bohol, and Negros, Espina said. (PNA)