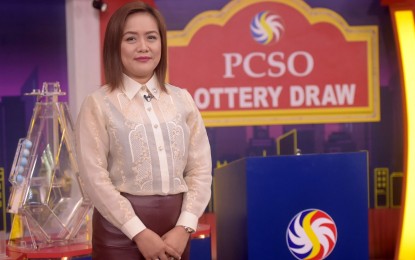 TACLOBAN CITY – The Philippine Charity Sweepstakes Office (PCSO) is eyeing to forge partnerships with more businesses in the bid to recover its losses due to the pandemic.
PCSO General Manager Royina Garma in an interview Monday afternoon said they would meet with the management of a chain of stores to help expand the operation of PCSO.
"Last week, we're able to seal a partnership with M Lhuillier to make lotto tickets available in all their outlets in the Visayas. They know where our money goes and they don't see us as a gambling corporation. They're like helping us raise funds for a cause," Garma told the Philippine News Agency (PNA) during a dialogue in this city with local officials of Eastern Samar province.
The official will also talk to the management of convenience stores such as 7-Eleven to make gaming operations part of their services.
The PCSO pushed the idea of partnership after suffering losses last year due to movement restrictions. From PHP100 million to PHP150 million daily sales in 2019, the figure dropped to only PHP60 million to PHP70 million ticket sales daily.
In 2020, the agency reported revenue of PHP18.63 billion, a decrease of PHP25.4 billion or a 57.7 percent drop from the PHP44.03 income generated in 2019.
Within the year, PCSO will develop a new platform for them to be able to sell lotto tickets online. Currently, tickets can be bought in their authorized lotto outlets.
"Recently, we have been in dialogues with local government units to support our program. We should help them realize that a big chunk of our budget goes to charity, financing the health care need of poor families," Garma added.
Garma assured that despite 50-percent sales loss due to the pandemic this year, the PCSO would continue to provide funds for healthcare, especially with the increasing number of patients seeking medical attention amid the prevailing coronavirus disease 2019 (Covid-19).
The PCSO is mandated to set aside 30 percent of its revenue for charity, 55 percent for prizes, and 15 percent for its operation. All balances of any funds in the PCSO will form part of the charity fund. (PNA)