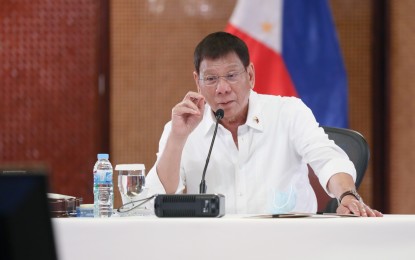 MANILA – President Rodrigo Duterte on Monday said he made the "right decision" to retire from politics.
He made the remark in reaction to the drop in his satisfaction numbers based on his latest Social Weather Stations (SWS) survey results.
The SWS poll results showed that Duterte's satisfaction rating dropped by 17 percentage points, from a peak of +79 percent net rating in the November 2020 survey to a +62 percent net rating in the latest survey in June 2021.
"It's still good, but I think it's time. There's always a time for everything. Even if you get a 64 rating, may panahon-panahon ang buhay. So sa palagay ko, tama yung ginawa ko (There's a time for everything. I think I made the right decision)," Duterte said in a late-night Talk to the People.
Duterte said he decided to retire from politics to respect "the will of the people" after another SWS survey revealed that 60 percent of 1,200 adult Filipinos believed that his vice-presidential run could violate the intention of the Constitution.
"I withdrew my vice presidential bid for next year's elections after giving serious thought to the sentiments of the Filipino people expressed by different surveys, forums, caucuses, and meetings," he said.
He said it is time to "give way to a new set of leaders" who would "hopefully" continue the reforms projects, and programs started by his administration.
"It is my hope that the new set of leaders will pursue a platform of government that will build on our gains in the areas of fighting illegal drugs, criminality, corruption, terrorism, and insurgency. I likewise hope that you will continue what we have begun in terms of infrastructure development and the many other initiatives we have undertaken during my term," he added.
Duterte legacy
Meanwhile, Duterte expressed confidence that his former long-time aide, Senator Christopher "Bong" Go is the "best person" to help the next president continue his legacy and build on their gains, especially in terms of providing basic services to healthcare, education, and other social services for the people.
He lauded Go for establishing Malasakit Centers when he was still Special Assistant to the President (SAP) and helping facilitate its enactment into law as a senator,
Malasakit Centers, which are meant to complement the Republic Act (RA) No. 11223 or Universal Health Care law, serve as a one-stop for easy access to medical and financial assistance needed to receive health care services.
Duterte praised Go for fulfilling his duties as a legislator by passing several important laws, visiting and providing assistance to Filipinos, especially victims of fire, flood, and other calamities as well as those who are heavily affected by the present Covid-19 pandemic.
"With his track record of service and strong work ethic rooted in compassion towards the poor and the neglected, I strongly believe that he will be the best vice president of the country," he said.
He encouraged Filipinos to "look at his deeds and achievements" in considering the list of candidates for the country's second-highest elected post.
On Oct. 2, Go filed his certificate of candidacy for vice president in the 2022 elections as Duterte decided to withdraw his acceptance of his nomination to run as vice president under the ruling Partido Demokratiko ng Pilipino-Lakas ng Bayan (PDP-Laban) faction of Energy Secretary Alfonso Cusi.
Go was nominated by PDP-Laban as its presidential nominee, but he turned down the offer saying he is not interested. (PNA)