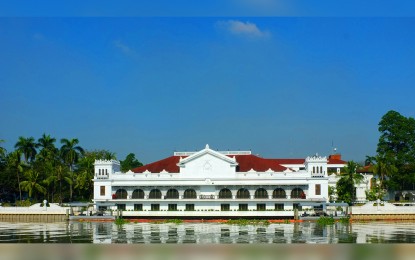 MANILA – President Rodrigo Duterte prides himself in wearing inexpensive watches, Malacañang said on Tuesday.
Presidential Spokesperson Harry Roque made this remark after Senator Richard "Dick" Gordon took a swipe at Duterte and Senator Christopher "Bong" Go for visiting stores selling high-end watches in Greenbelt 5 in Makati City after Go filed his certificate of candidacy for vice president at the Sofitel Harbor Garden Tent in Pasay City on Oct. 2.
Roque confirmed that Duterte passed by stores selling luxury watches inside the mall, but noted that it was "purely by chance" since the watch stores were situated near the mall entrance.
He, however, rejected Gordon's insinuations that Duterte bought any high-end watch from the shops.
"The President, however, did not purchase any watch but he went inside because he personally knew the tindera (sales lady) selling those watches," Roque said in a press statement, adding that he only had a few minutes of conversation with her.
He also said the seller is Duterte's friend since he was still a mayor 15 years ago.
"The President prides himself in wearing inexpensive watches. The President reckons it is probably Senator Richard Gordon who has a collection given that he owes the Philippine government P86-M," he added.
He was referring to a Supreme Court (SC) ruling that ordered Gordon to return PHP86 million in disallowed expenses he incurred when he was still Subic Bay Metropolitan Authority (SBMA) chairperson.
Roque also noted that Duterte's "unplanned" mall visit was merely a "side trip".
He said the trip made the President feel like "a normal citizen" who could go on malling, dine outside, and visit old friends and acquaintances.
'Malicious'
Roque, in an earlier statement, described as "malicious" Gordon's criticism over Duterte's mall visit.
He said Duterte only treated himself to some cookies and not luxury watches.
"PRRD stayed for a few minutes and bought cookies – not a high-end watch, as one senator maliciously implied," he said.
Since he was already in the mall, he said Duterte decided to check on the state of industries and businesses, which were among the sectors hardest hit by the prevailing health crisis.
"President Duterte went around personally checking how businesses are faring with the re-opening of industries and the economy," he said.
He also assured that Duterte continues to work "tirelessly" and will spend the rest of his term guiding the country towards post-Covid-19 recovery.
Go, for his part, said there was nothing wrong with Duterte visiting the mall, adding that he merely wanted to unwind, since the Covid-19 pandemic has restricted his movement.
"Mabilis lang kami dun at wala rin kaming binili bukod sa cookies dahil gusto lang talaga ni Pangulo na mag-ikot at maglakad-lakad. Ilang buwan na rin siyang hindi nakakalabas, nakakulong at puro trabaho (Our mall visit was just quick and we just bought cookies, nothing else, because the President only wanted to go for a walk. It has been months since he was unable to go outside and since he was too busy doing his job)," he said in a separate statement. (PNA)