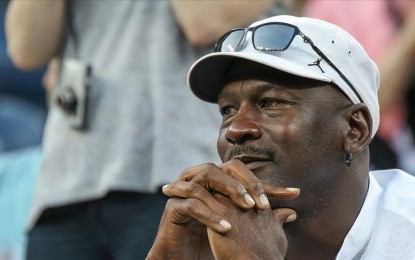 ANKARA – A NASCAR team that NBA legend Michael Jordan owns and its driver Bubba Wallace had their first racing win in the 2021 NASCAR Cup Series on Monday.
Wallace, 27, who drives 23XI Racing Toyota, won the YellaWood 500 at Talladega Superspeedway in Alabama.
He became the first Black driver to win a Cup Series race since Wendell Scott in 1963.
The 23XI Racing team is co-owned by Hall of Fame basketball player Jordan and Denny Hamlin, who currently drives for Joe Gibbs Racing in the NASCAR Cup Series.
"Man, I'm just so proud of everyone at 23XI," Wallace said after his victory at Talladega Superspeedway.
"New team coming in and getting a win late in the season. I know a lot of history was made today, I believe, which is really cool, but it's about our guys, about our team, about what was done. I appreciate Michael Jordan, I appreciate Denny for believing in me and giving me the opportunity. … It's pretty fitting that it comes here at Talladega," he added.
Chicago Bulls' former superstar Jordan said he was proud of Wallace.
"I'm so happy for Bubba and our entire 23XI Racing team. This is a huge milestone and a historic win for us," Jordan said on his team's Twitter post.
"From the day we signed him, I knew Bubba had the talent to win, and Denny and I could not be more proud of him. Let's go!" the 58-year-old added.
The next race in the 2021 season, Bank of America ROVAL 400, will be held on Sunday at Charlotte Motor Speedway in North Carolina's Concord.
This season will end at Phoenix Raceway in Arizona, where the Championship race will be run on Nov. 7. (Anadolu)