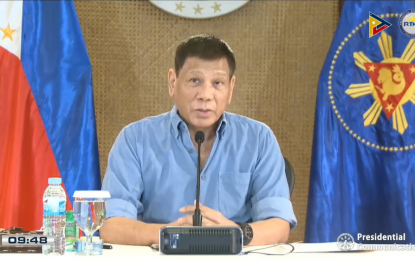 MANILA – President Rodrigo Duterte on Wednesday night rejected calls to withdraw a memorandum barring officials and employees of the Executive Branch from attending a series of Senate Blue Ribbon Committee probes into the government's handling of Covid-19 response funds.
"Pinapa-withdraw nila yung order ko, yung (They want me to withdraw the order) prohibiting people from the Executive Department from testifying. There ain't no way that I will withdraw it. You can do your worst and I will do mine," Duterte said in a late-night public address.
He said only the Supreme Court (SC) could decide on whether the memo is "unconstitutional" as some sectors believe.
"Eventually, I think this will reach the Supreme Court. I am not saying that I am all correct. I may be wrong, but I have to protect the Executive Department from the incessant and steady dose of insults coming from the senators," he said.
Duterte again lambasted the Senate panel for investigating the government's purchases during the height of the pandemic last year, particularly its transactions with Pharmally Pharmaceutical Corp.
He said he wanted to go to the high court to show footage of how "badly" the lawmakers behaved during hearings.
"That's why I want them to go to the Supreme Court. Gusto kong makita ang footage ng behavior nila (I want to show footage of their behavior)… I want it recorded in history yung pangyayari sa (what's going on in the) Senate and how they behave badly," he said.
Forgotten purpose
Duterte said senators seemed to have forgotten their purpose of investigating "in aid of legislation."
"Just because you are clothed with the authority, itong (this) in aid of legislation law-making power ninyo (you have) does not include berating people, shouting at people, forgetting the civility that has to be observed by everybody in and out of investigations," he added.
He also insisted that the Senate panel was "derailing" government from focusing their time and effort on the implementation of measures to address the Covid-19 pandemic.
Duterte then urged officials and employees of the Executive Department, particularly Vaccine Czar Carlito Galvez Jr., to prioritize duties to ensure the efficient transport and handling of Covid-19 vaccines.
"Instead of spending your time there sitting down with nothing to do, hindi naman kayo pinapatawag to talk, pinapatawag kayo doon para umupo lang (you're not being called to talk anyway, you're just called to sit there), then you see that all of these things are arriving almost daily and ikaw yung (you're the) Vaccine Czar, kailangan kita doon mag supervise ng pagbaba niyan (I need you there to supervise the transport) and everything is handled right and it's delivered to itong (the) cold storage to preserve their efficacy," he said.
In a public address on Oct. 4, Duterte signed on cam a memorandum for all officials and employees of the Executive Department to ignore the summons of the Senate Blue Ribbon Committee chaired by Senator Richard "Dick" Gordon.
"On the premise that the principle of separation of powers requires mutual respect among the different branches of government, and in view of Article II, Section 15 of the 1987 Constitution on the protection and promotion by the State of right to health of the people, the President has directed all officials and employees of the Executive Department to no longer appear before or attend the abovementioned Senate Blue Ribbon Committee hearings, effective immediately," the memo read.
Just file charges
Duterte also renewed his challenge to the Senate panel to just file the necessary cases against government officials if they had proof that the government's Covid-19 pandemic purchases were overpriced.
"I now repeat my call and challenge to the Senate blue Ribbon Committee, kung mayroon kayong ebidensya mag file na kayo ng kaso (if you have evidence, file cases). That is how simple it is and that is how simple it should be. Allow the Ombudsman, the proper agencies, and the courts to investigate, prosecute, and find guilty if there is any," he said.
'Mall side trip'
Meanwhile, Duterte also defended his short visit to stores selling high-end watches in Greenbelt 5 in Makati City after accompanying his long-time aide, Senator Christopher "Bong" Go in filing his certificate of candidacy for vice president on Oct. 2.
Gordon earlier took a swipe at Duterte and Go for going to stores selling luxury watches amid a prevailing health crisis.
"Ngayon huwag mo kaming punahin na magpasok kami ng ano. Ano sa'yo yun magbili ako ng Rolex kagaya ng suot mo (Now, don't criticize us for entering a shop. What's it to you if I buy a Rolex like yours)? Would it erase your criminal liability of malversing the PHP86 billion?" he said.
He was referring to a SC ruling that ordered Gordon to return PHP86 million in disallowed expenses he incurred when he was still Subic Bay Metropolitan Authority (SBMA) chairperson.
Duterte dared Gordon to return the money, noting that the amount could be used to purchase additional Covid-19 vaccines.
"Bayaran mo kasi kinakailangan ng gobyerno dahil magbili pa tayo ng maraming bakuna (Pay it back because the government needs to buy more vaccines)," he added. (PNA)