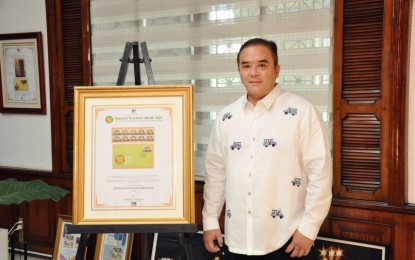 MANILA – The Philippine Postal Corporation (Post Office) is proud to celebrate "World Post Day" on Oct. 9, 2021, in solidarity with Postal Workers around the World in serving communities in times of crisis.
World Post Day is celebrated each year in connection with the anniversary of the establishment of the Universal Postal Union (UPU) in 1874 in the Swiss Capital, Bern.
It was officially declared by the UPU Congress held in Tokyo, Japan in 1969. The Philippines is an active member of the Universal Postal Union (UPU) which is composed of 192 member countries around the world.
Postmaster General Norman N. Fulgencio wishes to thank the diligent Filipino postal workers- our frontline heroes- who work hard to provide the much-needed public service that our countryman deserves.
The Post Office recognizes that digitalization and modernization are crucial ingredients not only to meet organizational objectives but also to keep employees productive, and motivated.
Given the uncertainty brought about by the recent challenging circumstances, this would be the opportune time to introduce its campaign for a better and improved postal service.
The Post Office is digitalizing its frontline services which are considered an important step towards achieving inclusive growth and a huge call to our shift towards a more modern Post Office.
Anchored on President Rodrigo Roa Duterte's Philippine Development Plan, specifically on enhancing the social fabric (Malasakit) towards improving the processing and delivery of public services, the Filipino people deserve no less than the best postal service by global standards.
As a member of the Universal Postal Union (UPU), the Post Office is mandated to adopt continuous innovations and integration of its domestic and global networks, to be the primary development partner in providing postal services, especially in missionary areas.
Meanwhile, the Post Office announced the winners in the recent 50th International Letter-Writing Competition for Young People held at the Manila Central Post Office. The theme for this year's contest is: "Write a letter to a family member about your experience of Covid-19". First Place: Ms. Sittie Hanna S. Paca, Grade 8, Lanao Del Norte National Comprehensive High School; Second Place: Ms. Deynnasha Grace L. Vente, Grade 9, Simonoc National High School; 3rd Place: Ms. Glorious Zahara Exylin C. Alesna, Grade 6, West Central Elementary School. #POSTOFFICE #postalservice #EMS #ordinarymails #registeredmails #mailservice #mails #parcels #shipping #HatidMalasakit #letterwriting #letters. (PR)