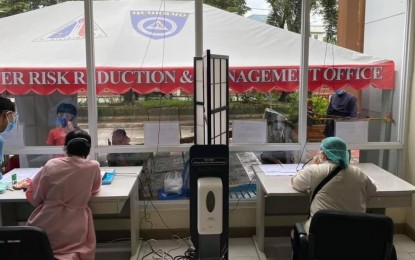 MANILA – Quezon City residents needing medical consultations will now be better assessed and evaluated safely inside a hospital through the out-patient department (OPD) Fusion.
Dr. Richard Cabotage, chief of the Rosario Maclang Bautista General Hospital along Batasan Road, said in an interview with the Philippine News Agency on Friday that the OPD Fusion is an innovation of consultations through telemedicine.
Non-coronavirus patients are resorting to online or phone consultations due to fears of being infected with the coronavirus disease 2019 (Covid-19) in medical facilities.
Cabotage said telemedicine has limitations and they needed to think of a way to assess patients more accurately by safely seeing them face-to-face.
"OPD fusion is a combination of face-to-face and teleconsultation using a dual-way intercom system and a glass partition between the doctor and the patient. With this, we can do a more comprehensive examination of the patient and basically visualize their medical concerns, which is one of the limitations of telemedicine," Cabotage said.
He said patients are first catered through the telemedicine service and will be scheduled for OPD Fusion consultation if necessary.
Only 15 patients per department will be accepted.
Netizens reacted positively to the OPD Fusion.
"Mabuti po at may ganyan na marami kasi iba na di marunong mag-online consultation. At least po sa ganyan masusuri sila at masasabi nila ang kanilang nararamdaman (It is good that there is this kind of consultation, especially for people who are not capable of doing the online consultation. At least with this, the doctor can see them personally and they can freely express how they feel)," Leslie Ruego posted on the Quezon City Government Facebook account.
Cabotage said internet connectivity adds to the difficulty of doing telemedicine.
Currently, only the Rosario Maclang Hospital is employing the OPD fusion but other city-run hospitals in QC may also adopt the same.
Patients who need consultation should register first with the telemedicine service, which will arrange a physical appearance if necessary.
"Galing naman, pwede na mag face-to-face consultation. Mas mainam kasi na nakikita ka ng personal ng doctor upang mas detalyado ang makikita nya ano ang iyong nararamdaman. Sana mas dumami pa ang ganitong face-to-face at teleconsultation (This is a good development. We can now do a face-to-face consultation because it is really better and the doctor can give a more detailed assessment of the patient. I hope other hospitals do the same)," Josiah Roble wrote in his post. (PNA)