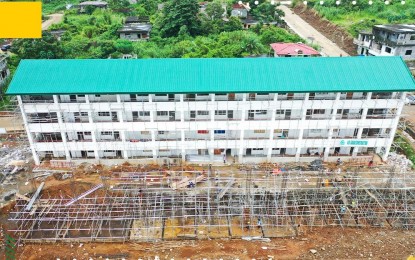 CAGAYAN DE ORO CITY – Marawi City's rehabilitation is on track and most of the projects will be completed before June 2022.
Mayor Majul Gandamra, a guest at the Network Breaking News hosted by Communications Secretary Martin Andanar on Friday, said projects in the city's Most Affected Area were expedited because of the partnership of the Task Force Bangon Marawi (TFBM) with private and civic sectors.
"Probably all projects which were promised and committed by the (national) government to be implemented will be completed before the end of the term of our beloved President Rodrigo Roa Duterte," Gandamra said.
He said the local government is confident with the developments because of the repeated assurance of TFBM Chair, Housing Secretary Eduardo del Rosario, that the restoration program that started in July 2020 is in order.
President Duterte himself confirmed during his pre-recorded Talk to the People on October 1 that he will attend the inauguration of the rehabilitated Grand Mosque on October 17.
To ensure the recovery of the city from the 2017 battle between government troops and IS-affiliated Maute terrorist group, the national government is assisting internally displaced persons, especially those with affected businesses.
"The livelihood assistance is continuously done by our national government and even the local government is also helping. In fact, we can see right now that we are constructing livelihood infrastructures," Gandamra said.
Meanwhile, the International Committee of the Red Cross (ICRC) in the Philippines is conducting peer-support sessions to help families of missing persons (FoMs) cope with their loss as part of the observance of World Mental Health Day on Sunday.
"In the absence of burial rites, these activities serve as an opportunity for them to pay tribute to the disappeared, to somehow free themselves of potential guilt that they are forgetting their missing loved ones," said Sittie Jamerah Mohammad, ICRC mental health and psychosocial support field officer, in a statement on Saturday.
Mohammad said waiting sheds and memorials where FoMs can go to honor their missing and offer prayers will be built.
Results of the ICRC Family Needs Assessment conducted in 2019 showed that the families' main priorities are knowing the fate of their missing loved ones, mental health, psychosocial support, and economic assistance. (PNA)