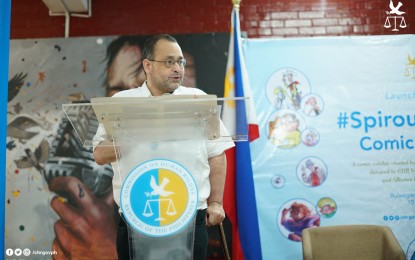 MANILA – Commission on Human Rights (CHR) chair Jose Luis Martin "Chito" Gascon has passed away following his bout with the coronavirus disease 2019 (Covid-19), his family announced Saturday. He was 57.
"Sa dami mong Laban, sa Covid pa tayo na talo! Love you Kuya! RIP Chito Gascon (Of all the fights you've fought, it was Covid that defeated you! Love you Kuya. Rest in Peace Chito Gascon)," his brother Miguel said in a Facebook post.
Gascon was appointed CHR chair in 2015.
CHR spokesperson Jacqueline Ann de Guia, in a statement, described Gascon's leadership as inspirational and nurturing where he impressed upon personnel and fellow human rights workers the impact and value of their work, especially to those who have it least.
"At a time of unprecedented human rights challenges, Chair Chito courageously and steadfastly upheld the constitutional mandate of the Commission," de Guia said.
"Amidst the unrelenting attacks against the institution and to him personally, he was unwavering and unflinching in fighting for the universal values of freedom, truth, and justice that are essential in the pursuit of human rights. He was undaunting in the fight for human rights, rule of law, and democracy out of deep reverence to the equal rights and dignity of all."
She said the Commission en banc (CeB) would continue to function with Commissioner Karen Gomez Dumpit as officer in charge.
In a tweet, former Supreme Court spokesperson, lawyer Theodore Te called Gascon a "giant for human rights."
"Chair Chito Gascon, rest in power. You fought the good fight. You stood your ground and held fast. You took the fight to the enemy. You were a giant for human rights. The forest is barer because of your fall, but the seeds that you planted will yield fruit," Te said.
European Union Ambassador to the Philippines Luc Veron also sent his thoughts, saying the delegation was in shock with Gascon's passing.
"(The EU Delegation in Manila) is in shock with the passing of Chair Chito Gascon our friend and partner in upholding human rights and dignity for all in the Philippines. Our thoughts and prayers to Chito's family, CHR members, and staff. Chito Gascon's vision will live on," Veron said.
French Ambassador to the Philippines Michèle Boccoz said she would remember Gascon as a "good friend" of France in upholding shared values on democracy and human rights.
"Chito Gascon courageously dedicated his life to the defense of human rights and democracy in the Philippines. He was a good friend of France in upholding these shared values. I offer my sincere condolences to his family, friends, and colleagues at CHR," Boccoz said in a tweet.
Gascon was a political activist and a social reformer, with work focusing on human rights, democracy, and governance for more than three decades.
Before he was appointed CHR chair, he served as a member of the Human Rights Victims Claims Board, the body responsible for administering recognition and reparation programs to the Martial Law Regime's victims where he held a rank equivalent to Justice of the Court of Appeals.
Gascon also served as the youngest member of both the Constitutional Commission that drafted the 1987 Constitution and the 8th Philippine Congress during the term of President Corazon C. Aquino.
"Since Martial Law, Chairperson Gascon has continued his unwavering advocacies in the field of human rights; access to justice and the rule of law; transparency and accountability initiatives; political and electoral reforms; peace and conflict transformation; people's participation and civic education; and state-building in the context of democratic transitions," his profile at the CHR read.
Gascon graduated from the University of the Philippines with an undergraduate degree in philosophy, then later earned a bachelor of laws degree from the same university. He has a master of law degree in International Law (Human Rights, Law of Peace, and Settlement of International Disputes) from Cambridge University.
DND, AFP condole with Gascon kin
The Department of National Defense (DND) condoled with the family of Commission on Human Rights (CHR) chair Chito Gascon.
"We at the Department of National Defense extend our sincerest condolences to the family of CHR chairperson Jose Luis Martin 'Chito' Gascon," DND Secretary Delfin Lorenzana said in a statement.
Lorenzana said the DND recognizes the great work done by the CHR under Gascon in human rights laws.
"He will be missed. May he rest in peace," the DND chief added.
The Armed Forces of the Philippines (AFP) also extends its sincerest condolences to the family, friends, and colleagues of the late CHR chair.
"His tireless work as a human rights champion and the watchful eyes of the CHR further pushed the AFP to advocate and abide by the principles of human rights and International Humanitarian Law," AFP spokesperson Army Col. Ramon Zagala said. (with report from Priam F. Nepomuceno/PNA)