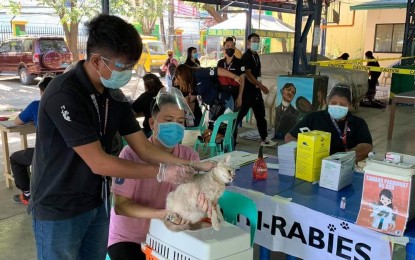 MANILA – Pet owners in Quezon City can have their furry companions vaccinated for free against rabies this week.
The vaccination drive began Monday in Marilag, Project 4 (Reyes Headquarters), UP Campus (Pook Village B Covered Court), and at the Purok 7 Rolling Hills Covered Court in Bagong Silangan.
As Metro Manila is still under Alert Level 4 due to the Covid-19 pandemic, only fully vaccinated pet owners aged between 18 to 65 years old are allowed at the venues.
Face masks and shields are required at all times.
Thirty percent of venue capacity or up to 100 persons, whichever is less, will be permitted.
Pet owners must coordinate with their village officials on the schedules.
From January to June this year, QC vaccinated 65,359 dogs and cats against rabies while 1,564 cats and dogs have been spayed or neutered.
On Wednesday, members of the QC Veterinary Department will be in Tandang Sora (Matville Covered Court), Veterans Village multipurpose covered court, and at Nagkaisang Nayon while Thursday's vaccination will cover Sauyo, UP Campus (Pook Palaris Ugnayan Hall), and Area 6 Covered Court of Botocan.
Finally, on Friday, anti-rabies vaccination will be held at the North Fairview Covered Court, Engineering Street of SSS Subdivision, Taniman covered court in Batasan Hills, and the village hall of TV East.
Free spay and neuter schedules will be announced in the coming days.
Rabies, fatal but preventable, can spread to people and pets if they are bitten or scratched by a rabid animal.
The virus infects the central nervous system that can result in death if the bitten person or animal is not treated right away.
If bitten, doctors advise that the affected part be washed with soap and under running water, followed by immediate medical attention. (PNA)