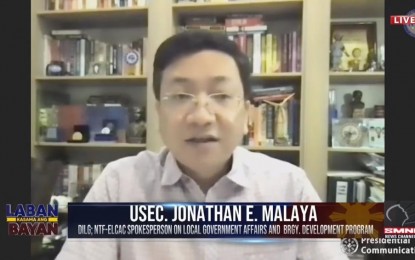 MANILA – The Department of the Interior and Local Government (DILG) wants to stop local chief executives and candidates from giving extortion money to the Communist Party of the Philippines-New People's Army-National Democratic Front (CPP-NPA-NDF), especially with the election season nearing.
During the weekly virtual press conference of the National Task Force to End Local Communist Armed Conflict (NTF-ELCAC) on Monday, DILG Undersecretary Jonathan Malaya said they will be seeking for the disqualification of candidates who will be proven to have given extortion money to communist terrorist groups (CTG) so they can be allowed to campaign in areas under the control of CPP-NPA-NDF elements.
"Maliwanag po iyan sa ating Revised Penal Code, as well as sa Omnibus Election Code na ang pagbibigay ng extortion money sa Communist Party of the Philippines and New People's Army (It is very clear in our Revised Penal Code, as well as in the Omnibus Election Code, that giving extortion money to the) CPP-NPA is an election offense. And since this is an election offense, this is a ground for disqualification," Malaya said.
He said the National Intelligence Coordinating Agency (NICA) revealed CTGs rake in millions of pesos from politicians who wish to campaign in the rebels' jurisdiction.
Article IX, Section 68 of the Omnibus Election Code states that any candidate who, in an action or protest in which he is a party is declared by final decision of a competent court guilty of, or found by the Commission (on Elections) of having given money or other material consideration to influence, induce or corrupt the voters or public officials performing electoral functions; committed acts of terrorism to enhance his candidacy; spent in his election campaign an amount in excess of that allowed by this Code; or solicited, received or made any contribution prohibited under the law shall be disqualified from continuing as a candidate, or if he has been elected, from holding the office.
Under Section 261 of the same law, an accused may also be permanently disqualified from holding any public office.
Malaya said aside from the disqualification, the agency may also file a case under the Terrorism Financing Prevention and Suppression Act of 2012 as giving extortion money to CTGs can be classified as a crime.
Malaya said the report by NICA Deputy Director General Abelardo Villacorta that only 63 officials were monitored to have given extortion money to the CPP-NPA during the 2019 elections was a welcome development.
"Noon pong 2016 ay 349 po iyan. Ibig pong sabihin, naging matagumpay po iyong ating programa laban sa pagbabayad ng extortion sa ating mga CPP-NPA dahil from 349 local officials, ito po ay 63 officials na lamang. So ang target po ng DILG ay mabawasan pa ito, na sana po ay ma-zero natin ang pagbibigay ng extortion money sa mga CPP-NPA (In 2016, that was 349. This means that we have been effective in our program against the giving of extortion money to the CPP-NPA because from 349, it went down to 63. DILG's target is to further lower the number and bring it to zero)," Malaya said.
He said the DILG is optimistic that this can be achieved especially after 1,436 out of 1,715 local government units nationwide have declared the CPP-NPA persona non grata.
Malaya assured that together with the Philippine National Police, the DILG will continue to monitor the 63 local government officials who paid extortion money to rebels in the 2019 elections.
He added the money was eventually used to acquire arms and weapons.
The Philippines' Anti-Terrorism Council has designated the CPP, NPA, and NDF as terrorist groups.
The United States, the European Union, the United Kingdom, Australia, Canada, New Zealand, and the Philippines also listed the CPP-NPA as a terrorist organization. (PNA)