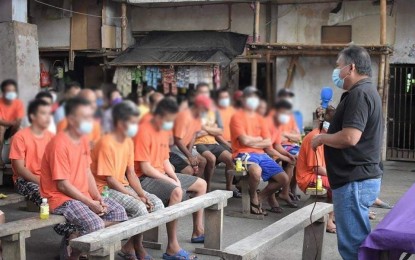 SAN JOSE DE BUENAVISTA, Antique – The Commission on Population (POPCOM) in this province has embarked on an intensified advocacy campaign on responsible parenting with the fathers as their primary target.
Several advocacy activities for the campaign dubbed Kalalakihang Tapat sa Responsibilidad at Obligasyon sa Pamilya (KATROPA) have been conducted in Antique this October in areas where there are low cases of the coronavirus disease 2019 (Covid-19), said POPCOM provincial officer Primo Ogatis in an interview on Wednesday.
"In our KATROPA orientation, we advocate the need for men to become effective partners of the women or their wives in doing their household chores and for them to do away with their vices such as smoking," he said.
Among the topics they discussed were Gender and Development (GAD), Responsible Parenthood, Family Planning, Healthy Lifestyle, and the ill effects of Violence Against Women and Children (VAWC).
He said they had already conducted orientation among the Persons Deprived of Liberty (PDLs) at the Antique Rehabilitation Center (ARC) here on Oct. 5 and barangay councilors in the Municipality of Libertad on Oct. 13.
"There were then 105 PDLs and 22 barangay officials who had attended our orientations," he said.
On Oct. 14, they will be holding an orientation with tricycle operators and drivers in the Municipality of Barbaza.
The KATROPA advocacy was suspended last year and early this year due to movement restrictions because of the health pandemic. It resumed recently when several local governments in the province allowed gathering of participants provided they adhere strictly to minimum public health standards.
For PDLs, in particular, Barbaza said the KATROPA is important as part of their preparation upon their release from prison and be reintegrated with their families. (PNA)