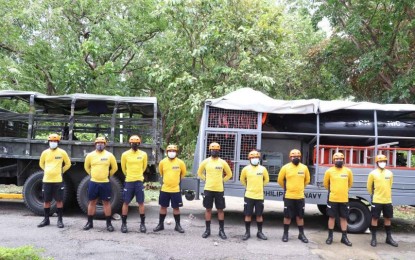 MANILA – The Philippine Navy (PN) headquarters in Manila has deployed four disaster response and rescue teams (DRRTs) on Wednesday to augment the humanitarian assistance disaster relief (HADR) missions being conducted by the Naval Forces Northern Luzon (NFNL) in areas severely affected by Severe Tropical Storm Maring.
In a statement Wednesday night, NFNL public affairs office chief, Lt. Madel Ladera, said the DRRTs deployed by PN headquarters have water, search-and-rescue (WASAR) capabilities.
"The additional four DRRT (are) composed of two officers and 43 enlisted personnel led by (Marine) Capt. Marlon Ladrido came from different units of PN. They arrived on board three M-35 trucks and one KM-250 truck from Bonifacio Naval Station in Taguig City," she said.
Ladera said all of these DRRT members are trained on WASAR which is very much needed on rescue operations in flooded areas.
"Upon arrival, said personnel were subjected to the standard operating procedure of rapid antigen tests. After which, two teams were immediately deployed to MDRRMO Tagudin, Ilocos Sur for the conduct of relief operations," she noted.
Despite the ongoing coronavirus disease 2019 (Covid-19) pandemic, Ladera said the PN is continuing with its mandate of supporting local government units during natural calamities or disasters.
"Likewise, these efforts of the PN will support the thrust of the Armed Forces of the Philippines for HADR operations," Ladera said. (PNA)