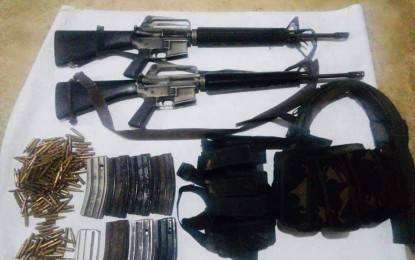 MANILA – The Philippine National Police (PNP) on Thursday said it will strengthen coordination with the Armed Forces of the Philippines (AFP) on information-sharing to further intensify the campaign against loose firearms.
PNP chief Gen. Guillermo Eleazar made the remark after five people, including two soldiers and a policeman, were arrested for selling firearms during an entrapment operation in Barangay Tamontaka, Datu Odin Sinsuat, Maguindanao on Tuesday.
Arrested were Pat. Eliver Jay Anggot Soverano, assigned to the Police Regional Office-Bangsamoro Autonomous Region in Muslim Mindanao Regional Crime Laboratory Office; Army Staff Sgt. Glenn Sangyao and Army Staff Sgt. Reynaldo Dichosa II, both assigned to 6th Infantry Division; Datu Morjan Kunakon Tumindig and Adams Tumindig.
"Due to this incident, your PNP will liaise with the leadership of the Armed Forces of the Philippines to strengthen monitoring and operations against anyone who sells and buys loose firearms, whether these are police officers, soldiers, or civilians. We will not allow this trend, especially amid the election season," Eleazar said in a statement.
Eleazar commended the chief of police and the personnel of the Datu Odin Sinsuat Municipal Police Station for their aggressive campaign against loose firearms.
"This translates to nine less firearms at the hands of criminal elements who may be tapped to sow violence in the May 2022 elections," he added.
The operation was conducted after a police poseur-buyer was able to transact with the suspects for the sale of assorted firearms.
Seized from the suspects were a 5.56 mm Bushmaster rifle, two 5.56 rifle, an M4 Carbine, two cal. 45 pistols, and three 9mm pistols.
He said the PNP personnel arrested will be charged with both criminal and administrative charges.
Eleazar earlier ordered early election security preparations that include aggressive operations against loose firearms and private armed groups. (PNA)