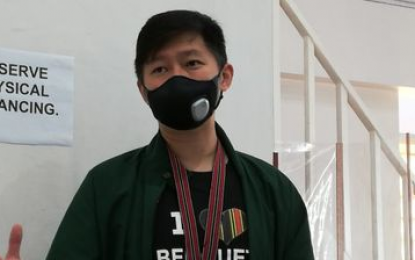 MANILA – A party-list lawmaker on Thursday called on the Senate to fast-track the approval of a measure creating the Department of Disaster Resilience following the onslaught of Severe Tropical Storm Maring in North Luzon.
ACT-CIS Party-list Rep. Eric Go Yap, who is also the legislative caretaker of Benguet, made the call after "Maring" left several landslides in the province and destroyed millions worth of agricultural crops.
"We are badly hit in Benguet by Typhoon Maring, perennial problems in flooding in some areas got worse and there were landslides in different parts of the province. Damage to properties and infrastructure were very extensive. Nasira ang mga pananim at naapektuhan ang source of living ng mga kababayan namin (The crops were destroyed and the sources of living of our people were affected)," Yap said.
He said what was tragic were the deaths of three children who were buried in a landslide in Barangay Ambiong, La Trinidad.
"Our office is giving out assistance to families severely affected by the typhoon, but we can only do so much. We need to have long-term solutions in place and we can't do it alone," Yap said.
Yap, citing reports, said the Teligo family was having their dinner inside their house in Central Purok Ubbog, Ambiong when the landslide occurred.
Rescuers found the parents alive while their children aged 2, 6, and 8 years old were not able to make it to the hospital alive.
"We reiterate our call to pass the bill on the creation of the Department of Disaster Resilience immediately. We need to have stronger authority that will focus on the protection of human lives and properties," he said.
The House approved its version of the bill in September last year with 241 affirmative votes, seven negative votes, and one abstention.
The measure proposes the DDR as the primary government institution responsible for ensuring safe, adaptive and disaster resilient communities.
"Hindi naman pwedeng resilient lang ang mga tao, kailangan may intervention na din (We shouldn't just rely on the resilience of our people. There should also be an intervention) from the national government, a stronger intervention, preferably in the form of a newly created Department of Disaster Resilience," Yap said. (PNA)