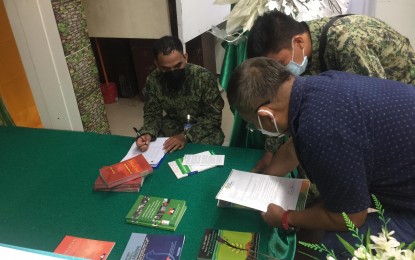 ILOILO CITY – The pullout of 13 subversive books and documents from the libraries of the five campuses of the Aklan State University (ASU) on Sept. 24 was voluntary.
Thus, said ASU Student Regent Apple Jeanne Villanueva in an interview over "Laban Kasama ang Bayan" program of the National Task Force to End Local Communist Armed Conflict (NTF-ELCAC) via SMNI News Channel on Thursday.
Villanueva said there was no coercion and interference from the Aklan Police Provincial Office (APPO) when the university decided to give up the books.
APPO, she said, requested for a dialogue with university officials to discuss the turnover of the reading materials.
"I would like to reiterate that the management decided on its own to turnover those subversive materials. The turnover activity was clearly voluntary," Villanueva said.
During the process of preparing for the turnover, school authorities found out that there was no record to prove the books were read by students even if they have been in the library since 2012.
Villanueva added that she could not see the logic why members of the Makabayan bloc in the House of Representatives are complaining about the turnover of subversive books when in fact, there was never a violation.
"With regards to the house resolution of the Makabayan Bloc, hindi ko po ma gets ang logic kung bakit po sila nag rereklamo sa turnover activity when in the first place wala naman po talagang violation na nangyari. Wala pong interference nangyari within the Aklan PPO and the NTF-ELCAC," she said.
She added that she favors the pullout of those books because ASU students are focused on their studies and do not engage in communist activities.
There are many ways to become critical thinkers, she said, disputing claims that the surrender of the books deprived them to practise critical thinking.
"During the dialogue, I heard that the university is willing to support the government, especially the initiatives of the APPO and the NTF-ELCAC in safeguarding the future of students in the Aklan State University," she added.
Meanwhile, Col. Ramir Perlito Perlas, in the same program, said before the turnover, they wrote a letter to ASU President, Dr. Emily Arangote, for a possible dialogue on the memorandum order of the legal cluster of NTF-ELCAC on the duty of the CHED (Commission on Higher Education) in banning subversive documents vis-à-vis academic freedom.
He added that they proposed if they can take a look at their libraries but the university volunteered to do it on their own, pulled out the subversive books, and surrendered them to the APPO.
On Sept. 24, upon invitation of the ASU management, APPO received the 13 books from the university.

One of the books was authored by Jose Ma. Sison titled "Foundation for Resuming the Philippine Revolution".
On Oct. 13, the Makabayan bloc filed a resolution asking for a congressional inquiry on the pullout of books from two universities in Luzon and ASU. (PNA)