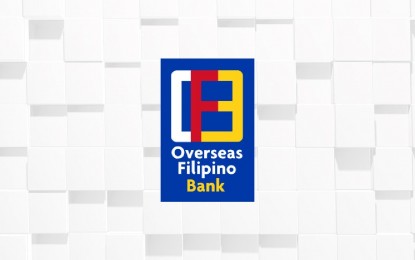 MANILA – Strengthened programs supporting the government's financial inclusion and digital financial transactions bids are seen to further boost the number of account holders of the government's official digital bank, Overseas Filipino Bank (OFBank).
OFBank president and chief executive officer (CEO) Leila Martin, in a reply to questions from the Philippines News Agency (PNA) Friday, said the app-based bank, which is a subsidiary of state-owned Land Bank of the Philippines (Landbank), have 52,749 account holders since its launch in June 2020.
"The bank is optimistic that its deposit/account base will continue to grow with its continuing effort in reaching more OFW (Overseas Filipino Workers) groups/Filipino communities abroad as it advocates for greater digital financial inclusion by making formal financial services much more accessible and convenient," she said.
Martin said as of end-September this year their account holders are based in 116 countries and territories that include the Philippines, United Arab Emirates, Saudi Arabia, Thailand, Qatar, Singapore, United Kingdom, Canada, Taiwan, and Kuwait.
The bank is part of the recent first-ever Retail Dollar Bond (RDB) offering of the government, facilitating 242 transactions, amounting to USD203,200 (PHP10.285 million), from 33 countries and territories.
The minimum investment for RDB is USD300 and these can be topped up in increments of USD100.
"The Bank takes part in the collaborative promotion of financial inclusion and digital transformation by providing an array of reliable and secure financial and investment products and services to meet the diverse requirements of migrant Filipinos and their families," Martin said.
Martin added that the bank is now preparing services that will allow OFBank account holders to access and invest in Unit Investment Trust Fund and pay their contributions to the Social Security System, Philippine Health Insurance Corporation, and the Home Development Mutual Fund or Pag-IBIG Fund. (PNA)