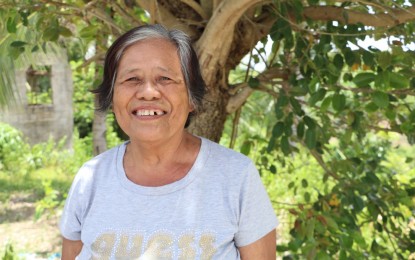 CEBU CITY – Poverty alleviation program beneficiaries in a small community in San Remigio, a third-class municipality in northern Cebu province, draw their inspiration from a septuagenarian who is a former school teacher who now spends her life as a volunteer.
With the many challenges in implementing projects under the Kapit-Bisig Laban sa Kahirapan -Comprehensive and Integrated Delivery of Social Services (KALAHI-CIDSS) through the Department of Social Welfare and Development (DSWD) 7 (Central Visayas), beneficiaries and program implementers bore some setbacks.
But the small barangay of Canagahan in San Remigio has found an ally in Wenina Rosellosa, 75, who is known to the community as "Nanay Wennie", an elderly community volunteer, helping out in the KALAHI-CIDSS projects.
Nanay Wennie joined the KALAHI-CIDSS out of her desire to help fill in some gaps that have prevented her community's progress.
The KALAHI-CIDSS is one of the poverty alleviation programs of the national government being implemented by the DSWD that uses the community-driven development approach, a globally recognized strategy for achieving service delivery, poverty reduction, and good governance outcomes.
Using her prowess in public speaking, Nanay Wennie advocates volunteerism through which the development that a community dreams of becomes possible.
She narrated that her decision to join the KALAHI-CIDSS brings her back to her younger years as a public school teacher.
Nanay Wennie recalled that it was in 2019 when she began to actively participate in various activities that made her confident that her voice would be heard in assemblies, allowing her to speak to a more focused audience.
She said she knew that the efforts of DSWD workers would result in progress and this motivated her to volunteer.
"Ako kining gipili sa walay pagduha-duha ug wala ko masayop nga akong gidawat ang hagit nga mahimong usa ka boluntir (I chose to become a volunteer without hesitation and I am not mistaken in accepting the challenge)," she said in a statement on Friday.
Faith in gov't projects
Because of her high sense of volunteerism, Nanay Wennie became a light to other volunteers and the beneficiaries for them to believe in the realization of the projects being offered to them.
She became an inspiration to other members of the volunteer group to see the goodness and benefits of the KALAHI-CIDSS.
"Madasig ko sa higayon nga ako mobatbat kabahin sa KALAHI-CIDSS ngadto sa mga purok sa among komunidad. Akong gilantaw ang dakong hulagway sa kabag-uhan nga pwedeng mahitabo sa usa ka gamay nga komunidad kon ang mga tawo mahatagan og oportunidad sa pagpartisipa ug pagtinabangay. (I feel alive every time I discuss about the KALAHI-CIDSS to every 'purok' in our community. I looked at the bigger picture of the possibility that a small community like ours can become progressive if people are empowered to participate and work together)," she said.
The former teacher recalled her experience when she forced herself to walk on a rocky road in going to school during her younger years as the main influence why she joined the program, seeing the lack of access roads in Barangay Canagahan as a big challenge not only to students and educators but also to the farmers who found it difficult to deliver their products to the market.
The DSWD-7 said in the statement that although volunteers in Canagahan are few, Nanay Wennie continued sharing information about the program.
Farm-to-market road
After a year of project implementation, Canagahan received its 0.650-km. farm-to-market road in Purok Bayabas with the village folk, especially the farmers, gladly welcoming it as a big help to their livelihood.
As the community considered her as a strong-willed person and a heroine for pushing change in their community, Nanay Wennie's vision for development as a way of life became a reality that helped students go to school and farmers deliver their products to the market with ease.
"Daghan pa ang angayan buhaton apan sa nakita nako nga kabag-ohan diri sa among komunidad, nabati nako nga aduna koy nindot nga nakab-ot sa akoang kinabuhi (There are so much to be done but the progress I see now in our community makes me feel I have achieved something good in my life)," she said.
The completed farm-to-market road made the residents of Canagahan realize that through the KALAHI-CIDSS, the government is indeed looking after the welfare of the people. (PNA)