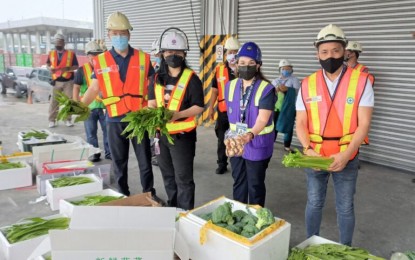 SUBIC BAY FREEPORT – Some PHP15 million worth of fresh vegetables illegally shipped from China were confiscated here on Thursday.
In a statement on Friday, SBMA chairman and administrator Wilma Eisma said the shipment was initially flagged on October 13 by authorities here for non-compliance with the approved sanitary and phytosanitary import clearance (SPS-IC) on temperature requirement and for ingress of non-importable fresh vegetables.
The Subic Bay Metropolitan Authority (SBMA), in coordination with the Bureau of Customs-Port of Subic (BOC-Subic), and the Department of Agriculture-Bureau of Plant Industry (DA-BPI), found the fresh vegetables inside five 40-footer container vans that were declared to contain frozen assorted vegetables and consigned to Saturnus Corp., an importer based in Metro Manila.
"We found out that the shipment contained chilled fresh vegetables that are considered illegal for importation into the country. These included various fresh produce such as water bamboo, mushrooms, broccoli, and other vegetables," Eisma said.
The shipment was also found to contain undeclared agricultural products like sweet oats, she added.
Eisma, along with BOC District Collector Marites Martin and Agriculture Assistant Secretary for Economic Intelligence Federico Laciste Jr., inspected the contraband at the New Container Terminal here.
Martin said her office already issued warrants for seizure and detention of the shipment, noting that the consignee Saturnus Corp. was only given a permit to import frozen vegetables.
She stressed that the temperature of frozen commodities should be at -18 degrees Celsius, but the refrigerated containers in the Saturnus shipment were at -1 degree Celsius.
"Thus, the issued SPS Importation clearance is not applicable in the instant importation," Martin said.
She said the Port of Subic "will definitely remain fully committed in securing the country's borders from the entry of prohibited, smuggled goods, and all other illicit trades".
Laciste, who is also the co-chair of the Economic Intelligence Sub-Task Group on Food Security, said the seizure of the illegal shipment was the "result of concerted efforts between government agencies such as the SBMA, DA-BPI, BOC, DTI, and other offices through the Economic Intelligence Sub-Task Group on Food Security".
He said the shipment violated the agency's Administrative Order No. 18, series of 2000, and Sec. 19 of DA Department Circular 4, series of 2016, in relation to Section 1113 (f) of Republic Act 10863 otherwise known as the Customs Modernization and Tariff Act (CMTA).
Meanwhile, SBMA Senior Deputy Administrator for Operations Ronnie Yambao said the inter-agency team made a thorough search of the shipment, including a probe for any illegal drug or substance in the shipment, after initially finding violations.
He said the concerned agencies conducted a 10 percent physical examination of the shipment in the presence of the broker's representative, and personnel of the BOC and SBMA. (PNA)