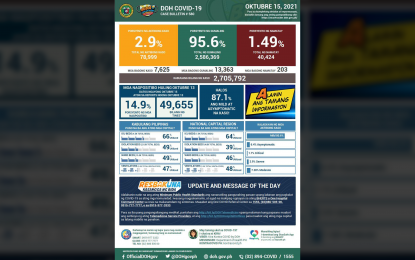 MANILA – The country's daily number of recoveries from the coronavirus disease 2019 (Covid-19) more than doubled on Friday, with the Department of Health (DOH) reporting 13,363 new recoveries, from Thursday's 5,317.
In its daily Covid-19 bulletin, the DOH said this brought the overall recovery count to 2,586,369, or 95.6 percent of a total of 2,705,792 confirmed infections in the country.
Another 7,625 new cases were also recorded, slightly down from Thursday's 7,835.
This brought the number of active cases in the country to 78,999, lower than Thursday's 84,850.
The death toll rose to 40,424, with 203 new fatalities.
Of these active cases, the majority at 80.6 percent have exhibited mild symptoms, followed by those with moderate symptoms at 7.38 percent, the asymptomatic at 6.4 percent, those with severe symptoms at 3.9 percent, and 1.7 percent are in critical condition.
Based on the latest data on testing, 49,655 Covid-19 tests were administered on Wednesday -- with 14.9 percent resulting positive for the disease.
To date, there are 4,300 intensive care unit (ICU) beds at 66 percent occupancy in the entire country, 21,000 isolation beds at 49 percent occupancy, 15,000 ward beds at 49 percent occupancy, and 47 percent of 3,200 ventilators are in use.
In the National Capital Region, there are 1,500 ICU beds at 64 percent occupancy, 4,800 isolation beds at 39 percent occupancy, 4,300 ward beds at 46 percent occupancy, and 48 percent of 1,000 ventilators are in use. (PNA)