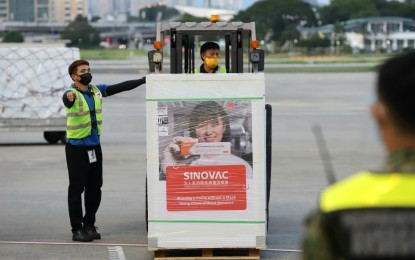 MANILA – The government's decision to bring in the Sinovac vaccine from China as the first Covid-19 jab to be administered to priority sectors has "saved" the country when vaccine hesitancy was at its highest and supply was scarce.
Go Negosyo founder and Presidential Adviser for Entrepreneurship Joey Concepcion said Sinovac did the country a lot of good and was one of the best decisions made during the start of the immunization program in March.
"Bringing in Sinovac actually saved the day for us. Yes, people have been criticizing that the efficacy of Sinovac may not be as good as Moderna, and of course, Pfizer. But without those vaccines that came in early and the delays that have happened with Moderna and AstraZeneca and to some extent Pfizer in the earlier days, we would have been sitting ducks," he said during the virtual Go Negosyo Bakuna Town Hall on Friday.
Many people would have been infected with Covid-19 had the government not brought in the Chinese vaccine and waited for other brands to arrive, Concepcion said.
He emphasized that all vaccine brands are proven to give protection against severe Covid-19 cases and prevent hospitalization and death.
As of October 12, Sinovac vaccines comprise 41.5 million of the total 87,690,960 doses that have been delivered.
Pfizer followed at 21,037,770 and AstraZeneca 10,256,540.
Vaccines administered have reached 51,482,063 as of October 15.
"Moving forward, as we vaccinate more of our Filipino citizens, the advantage of this is we will see lesser hospitalization," Concepcion said. (PNA)