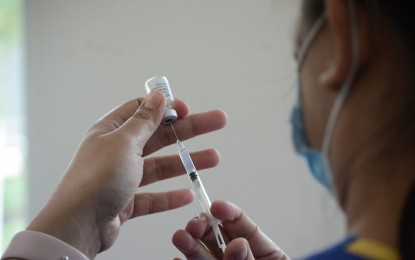 MANILA – A leader of the House of Representatives on Monday called on the government and private sector to ramp up the pace of vaccination by increasing the coronavirus disease 2019 (Covid-19) vaccine doses administered to 1 million Filipinos per day in a bid to bolster the country's economic activities while reducing virus transmission.
Deputy Speaker Eric Martinez said supply is no longer a problem as Secretary Carlito Galvez Jr., the country's vaccine czar, said we are now receiving an average of 1.5 million Covid-19 vaccines per day, with more than 14 million doses shipped to the country in the first week of October.
"This is the time that we ramp up our vaccination, with both the public and private sectors heavily involved," Martinez said.
Martinez noted the case of Indonesia, which was able to roll out an average of about 1,702,920 doses each day last week.
Citing the Reuters Covid-19 tracker, Martinez said Indonesia's daily jabs are at 1.3 million, much higher than the Philippines' 428,531, while Thailand landed next with about 751,846 jabs.
He said he is confident that his proposal is very much doable as the country had now reached a steady supply of 1 million doses a day.
"As the end of the current year is fast approaching, further economic mobility is needed especially in the National Capital Region (NCR) and the urban areas of Calabarzon, Panay, Cebu, and Davao regions to alleviate our problems of unemployment and further economic mishaps," he added.
He called on the government to bolster its information and dissemination campaign regarding its vaccination program to further encourage people to get inoculated as soon as possible.
The Philippines has administered 52,157,598 doses of Covid-19 vaccines as of Sunday.
The National Covid-19 Vaccination Dashboard showed 27,921,074 were given as first doses while 24,236,524 were utilized as second doses. (PNA)