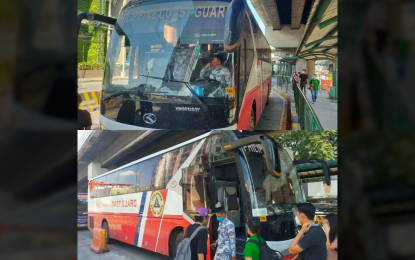 MANILA – The Philippine Coast Guard (PCG) on Tuesday deployed additional "free ride" buses along the Epifanio de los Santos Avenue (Edsa) Busway to help address congestion caused by a shortage of buses plying the thoroughfare.
In a Facebook post, the Inter-Agency Council for Traffic (IACT) requested these buses to specifically target congested stations.
IACT chief Manuel Gonzales welcomed the "speedy" response of the PCG and noted that a greater influx of passengers is expected with the recent easing of restrictions in the National Capital Region (NCR) to Alert Level 3.
"I express my gratitude to our coast guards as this would greatly help not just us but especially the commuters who painstakingly queue long lines due to the recent shortage of buses that we are currently," Gonzales said.
On Monday, the Land Transportation Franchising and Regulatory Board (LTFRB) issued show-cause orders to the two bus consortiums operating along Edsa for failing to deploy a sufficient number of buses.
LTFRB chairperson Martin Delgra III noted that as low as 120 bus units were plying Edsa on Monday, far from the agreed cap on the maximum allowable bus units of 550. (PNA)