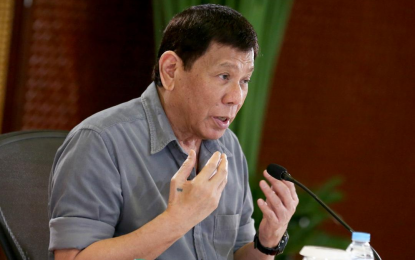 MANILA – The release of information on 52 cases of police anti-drug operations that resulted in killings of drug suspects shows that President Rodrigo Duterte is not remiss in his obligation of investigating human rights violations during his term, Malacañang on Wednesday said.
Presidential Spokesperson Harry Roque made this remark after the Department of Justice (DOJ) released "an information table" showing details about the 52 incidents such as names of killed suspects and the places and dates of their death.
"I can only commend the DOJ for this conclusion because this proves that the President has not been remiss in his obligation to investigate perpetrators of these crimes," Roque said in an interview at the Kapihan sa Manila Bay news forum hosted by Marichu Villanueva.
He said information on the 52 incidents showed that the state is fulfilling its obligation to protect and promote the right to life by giving the victims an effective domestic remedy through the filing of cases to ensure that those guilty will be prosecuted.
"I think these findings of the DOJ will belie all claims that the President is responsible under the principle of command responsibility because on the contrary, it proves that the Philippine state has in fact investigated and prosecuted individuals for these extralegal killings," he added.
Roque noted that Duterte has "discharged of his obligation as chief implementer of the law" because he has caused the filing of cases against those involved.
He also expressed confidence that Duterte would be able to clear his name once he had stepped down from power.
"I don't think it says anything about the culpability of the President because in the 52 cases there's not been an instance where there's been a determination that the President ordered the killing or that the President did not do anything to punish those who committed criminal acts," he added.
The release of the information came nearly two weeks after United Nations (UN) High Commissioner for Human Rights Michelle Bachelet urged the Philippine government to publish the findings of the investigation.
To recall, the DOJ review panel on anti-illegal drug war has recommended to the National Bureau of Investigation (NBI) to conduct a case buildup against 154 policemen involved in the said 52 anti-drug operations for possible criminal liabilities.
The DOJ decided to release the said information to inform the families and loved ones of the 52 deceased drug suspects that the NBI is now looking into the circumstances surrounding their deaths and to determine possible criminal liabilities on the part of erring police officers.
The release of the information was also part of the recognition of the importance of transparency in its review process, the department added. (PNA)