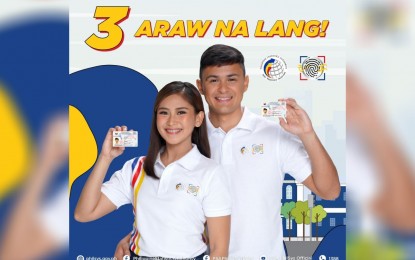 MANILA – The Philippines Statistics Authority (PSA) will launch the Philippine Identification System (PhilSys) ambassadors on Monday (Oct. 25).
The country's Pop icon Sarah Geronimo-Guidicelli and husband Matteo Guidicelli are tapped to promote the PhilSys advocacies including its official jingle dubbed "#IDNatin 'to!", which will also be released to the public on Monday.
Filipinos who wish to acquire their own Philippine Identification (PhilID) or the national ID are urged to sign up for free via https://register.philsys.gov.ph/.
Step 1 involves the collection of demographic information such as full name, gender, date, and place of birth, blood type, and address.
The PSA reminded those who have completed Step 1 registration through a house-to-house collection of the demographic profile will no longer need to proceed and register online--to avoid issues on the registration process.
Once done in Step 1, the validation of supporting documents and the capture of biometric information will follow in Step 2.
Registrants are urged to wait for a confirmation text regarding the Step 2 process, including the date and venue of biometric capture.
Details will be sent through the contacts provided in the Step 1 registration.
Step 3 will be the delivery of PhilSys Number (PSN) and PhilID to the owner's home address.
For more queries, you can reach [email protected] or hotline 1388.
Signed into law by President Rodrigo Duterte in August 2018, Republic Act 11055, or the Philippine Identification System Act, aims to establish a single national ID for all Filipinos and resident aliens.
The national ID shall be a valid proof of identity that shall be a means of simplifying public and private transactions, enrolment in schools, and the opening of bank accounts.
It will also boost efficiency, especially in dealing with government services where people will only need to present the PhilID during transactions. (PNA)