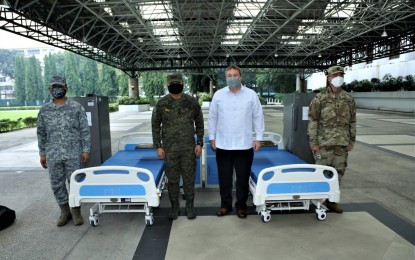 MANILA – The Armed Forces of the Philippines (AFP) on Monday thanked the United States for donating close to PHP2.08 million worth of medical supplies and equipment.
AFP chief-of-staff, Gen. Jose Faustino Jr., led the handover ceremony at the AFP general headquarters Canopy Area at Camp Aguinaldo, Quezon City.
"The AFP is grateful to the United States Government for the donations which will surely enhance our capacity to afford our military personnel and their dependents the best health care services that we can provide," he said.
Faustino was joined by AFP Health Service Command (AFPHSC) head, Brig. Gen. Edgar Cardinoza, and other senior military officers in receiving the US government's donation that includes 30 intensive care unit (ICU) beds and 10 sets of personal protective equipment.
These are intended to support the Covid-19 response operations of the AFPHSC and are in line with the US government's initiative to provide assistance to the Philippines in combating the pandemic.
David Gamble, Acting Deputy Chief of Mission of the US Embassy in Manila, handed over the donations to AFP officials.
"This is just another step in our long partnership as treaty allies that has been going for 70 years. The ICU beds represent 30 of the 600 that the US will be donating at PHP1.3 billion worth of donations," he said.
Also present were Lt. Col. James Kim, Deputy Chief of Joint United States Military Assistance Group-Philippines, and the US Indo-Pacific Command Civil-Military Support Element Team led by Capt. Travis Burleson.
"We will ensure that these equipment and supplies will be fully utilized to fulfill not only our Covid-19 response efforts but more importantly for other medical needs that our personnel require who incessantly render faithful and dedicated service to the Filipino people," Faustino said. (PNA)