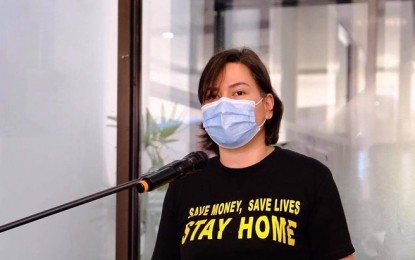 DAVAO CITY – Mayor Sara Z. Duterte announced on Monday the lifting of a city-wide curfew effective Tuesday until January 15 and the issuance of guidelines for a modified liquor ban.
The mayor said the modified guidelines were contained in her Executive Order No. 59 issued on Monday.
"As the city is currently at 71.77 percent for the first doses and 62.19 percent for second doses of its target number of inoculations as reported by the Davao City Covid-19 Task Force, there is a need to ease and loosen restrictions following the decrease in the number of cases reported and the active vaccination rollout within the city," she said.
Last Aug. 2, Mayor Duterte issued Executive Order No. 37 extending the liquor ban and curfew until the end of the year.
"We will go back to the 1:00 am to 8:00 am. So, selling and drinking of liquor in public places will be prohibited on the mentioned hours," she said in a radio interview.
The EO clarified that the serving of liquor for consumption in bars, restaurants, sari-sari stores, wet markets, videoke or karaoke bars, and other business establishments are still prohibited.
"Drinking liquor in all public places including but not limited to streets, alleys, pathways, and outside of gates [are not allowed]. Alcohol may only be served and consumed inside private properties," Duterte said.
The city originally implemented a 24-hour liquor ban through Section 3 of Executive Order 23-B Series of 2020, when an enhanced community quarantine was declared on Apr. 6, 2020.
The ban was later reimposed from Nov. 2, 2020 to Dec. 31, 2020. (PNA)