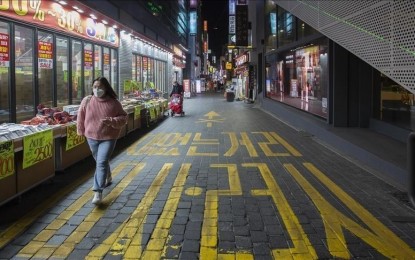 ANKARA – South Korea on Monday announced that it would begin easing COVID-19 restrictions starting next month, local media reported.
"Based on stable containment and high vaccination rates, we are commencing a gradual return to normal life," Yonhap News Agency quoted the country's President Moon Jae-in as saying in an address to the country's parliament.
The move came a day after the country exceeded 70% vaccination rate, with Moon saying the transition would begin in November "in earnest."
From next month, businesses will reopen their doors and in-person classes will resume while most Covid-19 restrictions will be eased, though mask-wearing will remain in place, according to the report.
According to Korea Disease Control and Prevention Agency, 40.7 million people, or 79.4 percent of the population, have so far received their first Covid-19 vaccine dose, while 35.9 million, or 70.1 percent, are fully vaccinated.
During the past 24 hours, South Korea reported 1,190 new cases of the coronavirus as the country saw a decrease in infections over the last three weeks.
So far, South Korea registered 353,089 cases with 2,773 deaths, according to the agency. (Anadolu)