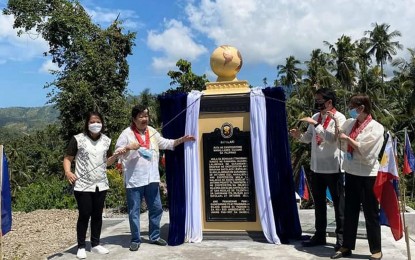 GENERAL SANTOS CITY – The National Quincentennial Committee formally unveiled on Tuesday a historical landmark in a coastal village in Glan, Sarangani province to commemorate the passage in the area exactly 500 years ago of the surviving crew of the Magellan-Elcano expedition.
Officials led by Department of Tourism Undersecretary Roberto Alabado III and National Historical Commission of the Philippines (NHCP) representatives led the unveiling of the landmark in Barangay Batulaki in Glan, one of the oldest localities in Region 12 (Soccsksargen).
Glan Mayor Vivien Yap said the town formally made its place in history with the placement of the landmark, the 32nd of the 34 quincentennial historical markers commemorating the 500th anniversary of the first circumnavigation of the world.
"This is a significant day for the people of Glan. (Barangay) Batulaki is now part of history," she said in an interview.
According to historical accounts, the ship carrying the Magellan-Elcano expedition dropped anchor on Oct. 26, 1521, at the "Biraham Batolach," known today as Batulaki.
NHCP said Antonio Pigafetta, the chronicler of the Magellan-Elcano expedition, recorded that they anchored in Batulaki after experiencing the "most furious storm" they experienced in their voyage, 500 years ago.
Yap expressed gratefulness to the national government for recognizing the town's contribution to the historic expedition.
She assured that the local government will make the necessary efforts to safeguard and take care of the historical marker.
Rhoa Wadingan, Glan tourism officer, said they expect the landmark will be another major attraction for the area, which is known for its pristine white-sand beaches.
"We will be including this in our tourism packages," she said.
Dubbed the "Boracay of the South," Glan is considered the summer capital of Sarangani and among the top tourist destinations in Soccsksargen.
The town, which is one of the oldest in the region, celebrated its centennial anniversary on October 8, 2014. (PNA)