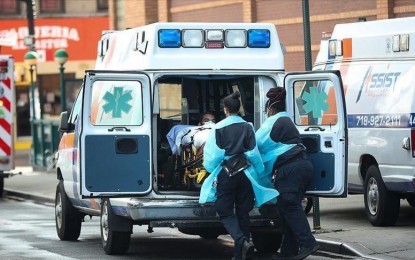 GENEVA – The World Health Organization (WHO) said on Wednesday that after months of decline, global Covid-19 case and death numbers had risen slightly week-on-week, with more than 2.9 million infections and over 49,000 fatalities.
The number of weekly Covid cases rose by 4 percent, while deaths climbed by 5 percent, said WHO in its weekly update.
It noted that the European region had reported its fourth consecutive week of increase in new Covid-19 cases, with an 18 percent rise compared to the previous week, while other regions reported a decline.
In a virtual speech to the East Asia Summit meeting, WHO Director-General Tedros Ghebreyesus said the pandemic had demonstrated the vital importance of multilateralism and solidarity to confront global health threats.
"However, despite these multilateral efforts, the inequitable distribution of vaccines, diagnostics, therapeutics, and medical oxygen has left billions of people vulnerable to this deadly virus," Tedros said.
In high-income countries, almost two-thirds of the population have been vaccinated with at least one dose, while less than 5 percent of people in low-income countries have received a vaccine, he added.
WHO said the most significant decrease in new weekly coronavirus cases was reported from the Africa region, falling by 21 percent, followed by the Western Pacific Region, down 17 percent.
Compared to the previous week, cases in the European region rose by 14 percent and the Southeast Asia region by 13 percent.
The most significant decline in new weekly deaths was reported from the Western Pacific region, showing a 13 percent fall compared to the previous week.
As of Oct. 24, the WHO reported more than 243 million confirmed Covid-19 cases and over 4.9 million deaths since the pandemic's start since it was first known in the world at the beginning of 2020. (Anadolu)