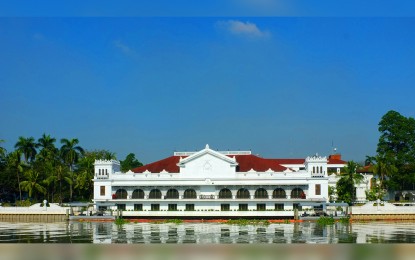 MANILA – As the Commission on Elections (Comelec) is busy preparing for next year's national and local elections, there is a lingering question with apparent national significance, but has never been asked.
This is the question, which concerns the next vice president and all future ones: "Why the Philippine government seems to have no plan to put up an official and permanent residence where the country's second highest official-in-waiting can stay and meet his or her official visitors, or even the common people needing help?"
That question has a follow-up one: "Why is there a need for such official residence for the vice president?"

While it is not constitutionally mandated, unlike in the case of the president, the vice president also needs a presentable residence for being the second highest elected official of the land.
Section 6, Article VII (Executive Department) of the 1987 Constitution partially provides that: "The president shall have an official residence." At present, this is Malacañang Palace located near the Pasig River in Manila's San Miguel district.
The same provision was contained in Section 9, also Article VII of the 1935 Constitution which ceased functioning in January 1973.
The 1973 Constitution, which shifted the form of government into parliamentary, abolished the office of the vice president and transferred the executive power to the prime minister, with the assistance of the Cabinet. The president, in turn, became the symbolic head of state.
The position of vice president was restored with the abolition of the parliamentary system and the return of the executive power to the president and the legislative function to a bicameral Congress under the 1987 Constitution promulgated by President Corazon C. Aquino's administration.
The lack of an official residence for the vice president has been forcing the second highest official of the land to hold office in non-permanent sites.
For instance, the office of current Vice President Leonor G. Robredo is now located in a government-owned building, called the QC Reception House, in Barangay Mariana Park, New Manila, Quezon City.
Her predecessor, former Vice President Jejomar C. Binay, used to hold office at the Coconut Palace, also called Tahanang Maharlika at the Cultural Center of the Philippines (CCP) Complex along Roxas Blvd., Pasay City.
Meanwhile, whoever wins in the May 9, 2022 elections will be the country's 15th second highest official since the establishment of the Philippine Commonwealth government on Nov. 15, 1935.
The outgoing Vice President Robredo is among the candidates for the presidency in the coming national polls.
Her 13 predecessors were: former Vice Presidents Sergio S. Osmena Sr. (Nov. 15, 1935-Aug. 1, 1944); Elpidio R. Quirino (May 28, 1946-April 17, 1948); Carlos P. Garcia (Dec. 30, 1953-March 1957); Diosdado P. Macapagal (Dec. 30,1957-Dec. 30, 1961); Emmanuel N. Pelaez (Dec. 30, 1961-Dec. 30, 1965); Fernando H. Lopez (Dec. 30, 1949-Dec. 30, 1953; Dec. 30, 1965-Dec. 30, 1969; Dec. 30, 1969-1972); Arturo M. Tolentino (Feb. 16-25, 1986); Salvador H. Laurel (Feb. 25, 1986-June 30, 1992); Joseph E. Estrada (June 30, 1992-June 30, 1998); Gloria Macapagal Arroyo (June 30, 1998-Jan. 20, 2001); Teofisto T. Guingona Jr. (Feb. 9, 2001-June 30, 2004); Noli L. De Castro (June 30, 2004-June 30, 2010); and Jejomar C. Binay (2010-June 30, 2016). (PNA)