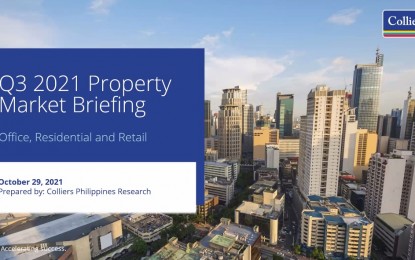 MANILA – The business process outsourcing (BPO) industry is expected to usher recovery of the property market like what the sector did during the 2008 global financial crisis, Colliers Philippines director for Office Services Dom Frederick Andaya said on Friday.
In a market briefing, Andaya said strong demand for office space is expected from the BPO sector as the United States economy has started to open up.
"Right now similar to what happened during the global financial crisis, outsourcing as a strategy to recover and rebuild will be significant moving forward," he said.
He added that the industry is expected to expand by 8 percent in revenues and full-time employees, with drivers of growth are in financial services, banking, insurance, and high level works such as software development and game development, among others.
Andaya said BPOs would help in the absorption of available office space in Metro Manila currently at 1.78 million square meters or equivalent to 60 vacant buildings with a leasable area of 30,000 sqm per building.
Andaya added that the absorption period for the 1.78 million sqm vacant office space will be around 3.5 years.
Aside from Metro Manila, BPO companies are looking for office spaces in the provinces like Cebu, Pampanga, Iloilo, Bacolod, and Davao.
The property market expert said the adoption of a hybrid work model, combing on-site and work-from-home work arrangements, as well as the availability of IT parks and buildings registered with the Philippine Economic Zone Authority (PEZA) could also affect in the investment strategies of companies particularly BPO firms.
"Some of them are studying, but some of the questions are the following: Are the PEZA-registered enterprises allowed to shift from other investment promotion agencies like BOI (Board of Investments) which does not require companies to operate within specific locations, that means they will have the flexibility to implement their hybrid work model strategy," Andaya added.
In a text message, Trade Secretary and BOI chair Ramon Lopez confirmed that BPOs can get the same incentives under the CREATE Law whether they register with PEZA and BOI.
For companies registering with PEZA, they are required to locate inside PEZA-registered IT parks and buildings or economic zones, while companies can locate anywhere when registering with BOI. (PNA)