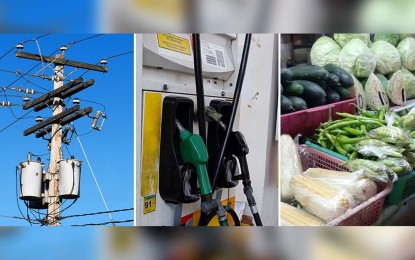 MANILA – Upticks in global oil prices are seen as major upside risk to the Philippines' October 2021 inflation rate, which Bangko Sentral ng Pilipinas (BSP) forecasts to stay between 4.5 to 5.3 percent.
"Inflation will be driven largely by the upward adjustments in domestic oil prices," the central bank said in a statement on Friday.
This, as price of oil in the international market sustained its rise to above USD80 per barrel.
BSP said the hikes in global oil prices are seen to result to higher power rates in areas being serviced by the Manila Electric Company (Meralco) as well as the prices of fish and fruits.
It also noted that weakening of the peso against the US dollar is also another source of upside pressure on domestic rate of price increases.
These factors are, however, seen to be "partially offset by the continued decline in rice and meat prices, reflecting continued arrival of pork imports," it said.
"Moving forward, the BSP will continue to closely monitor emerging price developments to help ensure that its primary mandate of price stability conducive to balanced and sustainable economic growth is achieved," it added.
Inflation decelerated to 4.8 percent last September from the 4.9 percent in the previous month, which is the highest rate since the 4.4 percent in January 2019.
Monetary authorities expect inflation to remain elevated but to go down to within the government's 2-4 percent target band by the end of this year. (PNA)