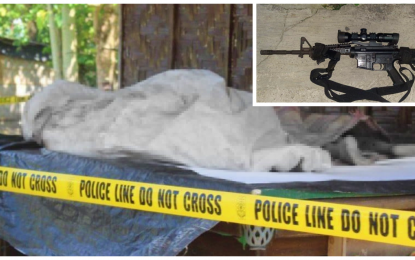 CAMP SIONGCO, Maguindanao – The Army's 6th Infantry Division (ID) here has placed all its field units in Central Mindanao on heightened alert due to possible retaliation from followers of slain Dawlah Islamiya (DI) leader Salahuddin Hassan.
"With the help of the community and other stakeholders, we can defeat these terrorist groups and realize our desire for a safe and peaceful community," Maj. Gen. Juvymax Uy, the 6ID commander, said in a statement Saturday.
The 6ID covers the provinces of Maguindanao, Sultan Kudarat, South Cotabato, and parts of Sarangani, North Cotabato, and Lanao del Sur.
Hassan, touted as the emir of the Islamic State-linked DI terror group in the southern Philippines, and his wife, Jehana Minbida, the DI's finance officer, were both killed during a military-police joint operation in remote Barangay Damablac, Talayan, Maguindanao before dawn Friday.
Government forces were to serve arrest warrants against Hassan at his hideout in Damablac village when he resisted arrest, triggering a brief firefight.
Villagers sighted him with about 15 other DI gunmen on Wednesday.
Uy said Hassan was initially wounded in the firefight along with his wife, Minbida, but his companions abandoned them and fled.
He noted that the successful neutralization of Hassan came after a sustained military operation, with the help of concerned villagers who reported the presence of suspicious armed individuals in their community.
Col. Pedro Balisi, 1st Mechanized Brigade commander and leader of the operating troops, said Hassan, who attempted to escape despite being wounded, died with his wife at the clash site.
Retrieved from the slain couple were several firearms and war materiel, which included a 5.56 mm. R4 rifle, bandoliers, ammunition, various war paraphernalia, and subversive documents, Balisi said.
Hassan, who carried a PHP1.3 million reward on his head, was the former leader and founder of the notorious Al-Khobar extortion group involved in various terroristic attacks in Mindanao from 2007 to 2015, and a student of the late Basit Usman and Malaysian terrorist Zulkifli Abdhir Marwan.
Hassan replaced Hatib Hajan Sawadjaan as the overall DI emir in the Philippines after the latter's death in 2019.
He was also identified as the mastermind of the Yellow Bus Line (YBL) unit bombing on January 27 this year in Tulunan, North Cotabato, and the burning of another YBL unit in M'lang, Cotabato on June 3 that resulted in the death of three passengers and wounding of six others.
Uy said Hassan's group was identified as among the terror groups involved in the 2014 Maramag, Bukidnon Rural Transit Bus bombing that left at least 11 dead and 15 injured.
His group was also linked to the September 2016 Davao Night Market bombing that killed at least 14 civilians.
In 2018, Hassan's group was tagged in the twin bombings in Isulan, Sultan Kudarat that killed five persons and hurt 40 others.
Balisi said the death of Hassan would hopefully lead to the end of the DI in Maguindanao.
"I continue to call on the community and our partner local government units to help us defeat terrorism and violent extremism," Uy said. (PNA)