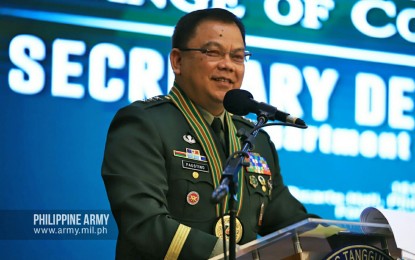 MANILA – The creation of the National Task Force to End Local Communist Armed Conflict (NTF-ELCAC) is a "game-changer" in the government's campaign against the New People's Army (NPA) and insurgency, Armed Forces of the Philippines (AFP) chief Gen. Jose Faustino Jr. said.
"The effect of Executive Order Number 70 is undeniable. It has been a game-changer for us as it expedited the dismantling of guerrilla fronts and apprehension and capture of CTG leaders due to the convergence of efforts from all agencies and local government units," Faustino said in a statement Monday night.
Executive Order 70 institutionalized in 2018 the whole-of-nation approach and established the NTF-ELCAC as means to attaining inclusive and sustainable peace.
Since then, about 4,075 members and supporters of the terrorist group have surrendered and withdrawn their support to the Communist Party of the Philippines (CPP) and the NPA.
There were 198 communist terrorists who were killed and another 240 were either apprehended or captured in operations.
"Based on our data, the surrenders outnumber those who are recruited," Faustino said.
Over the weekend, NPA leader Jorge Madlos alias "Ka Oris" and a fellow rebel were killed in an encounter in a mountainous area in Impasugong, Bukidnon.
The most wanted NPA commander in Mindanao, Madlos, 71, faced multiple criminal cases such as robbery with homicide, damage to properties, murder, and double frustrated murder.
Faustino said the loss of a rebel leader like "Ka Oris" was "irreversible".
His death is seen in the security sector as a major blow to the communist terrorist group, which has seen its leaders -- Benito Tiamzon and Julius Giron -- fall in the past few years. (PNA)