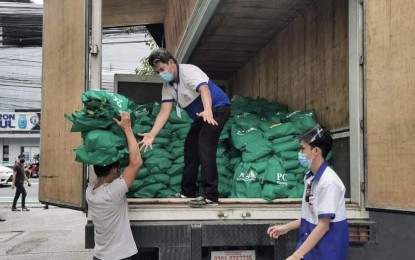 LAOAG CITY – The Philippine Charity Sweepstakes Office (PCSO) provided on Tuesday close to 2,000 food packs to some Ilocanos in this northern part of Luzon as they continue to feel the brunt of the coronavirus disease 2019 (Covid-19).
Each food pack consisting of rice, milk and canned goods was turned over to the Ilocos Norte government to beef up its ongoing relief operations in various parts of the province particularly in areas affected by granular lockdowns due to Covid-19.
PCSO General Manager Royina Marzan Garma said Tuesday the food packs were the latest assistance of the PCSO since the pandemic began last March 2020.
Early on, the PCSO disbursed at least PHP1 billion for various Covid-19 programs since last year. That was withstanding that operations of legitimate games were suspended as precautionary measures against the virus.
"I hope the food packs will be of help to those who were greatly affected by the pandemic," she said.
In September, a similar food aid distribution was given to Ilocos Norte residents as a way of giving back to the community that supports its gaming programs such as its small-town lottery.
Meanwhile, the PCSO is also giving additional seven units of ambulance vehicles to Ilocos Norte province. These are expected to be turned over to the Ilocos Norte government by the end of this year. (PNA)