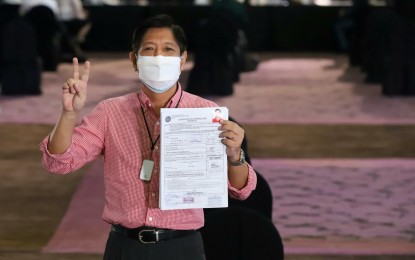 MANILA – A petition was filed before the Commission on Elections (Comelec) on Tuesday seeking to cancel the Certificate of Candidacy (COC) of former senator Ferdinand "Bongbong" Marcos Jr. who is running for president in the May 2022 polls.
The 57-page petition, filed by petitioners Fr. Christian Buenafe, Fides Lim, Ma. Edeliza Hernandez, Celia Lagman Sevilla, Roland Vibal, and Josephine Lascano claimed that Marcos' COC contained multiple false material representations.
"Specifically, Marcos falsified his Certificate of Candidacy when he claimed that he was eligible to be a candidate for President of the Philippines in the 2022 national elections when in fact he is disqualified from doing so," they said in a statement.
The Petition to Cancel or Deny Due Course was filed under Section 78 in relation to Section 74, Article IX of the Omnibus Election Code (OEC).
The petitioners noted that Marcos is not eligible to run for any public office because he was convicted.
"Marcos was convicted by the Regional Trial Court of Quezon City in a July 27, 1995 Decision for his multiple failures to file income tax returns," the petitioners said.
"This conviction was upheld by the Court of Appeals and no longer appealed to the Supreme Court, thereby becoming a final and unappealable conviction. Having been convicted by final judgment of a violation of the National Internal Revenue Code (NIRC), Marcos is perpetually disqualified from holding any public office, to vote, and to participate in any election as mandated under the NIRC," they added.
READ: Not all convicts disqualified to seek elective positions
The petitioners said the crimes for which Marcos was convicted by final judgment are also crimes involving moral turpitude that disqualifies him from being a candidate for any office under Section 12 of the OEC.
A 2009 Supreme Court decision, however, said that "even assuming arguendo that his conviction is later on affirmed, the same is still insufficient to disqualify him as the 'failure to file an income tax return' is not a crime involving moral turpitude."
'Nuisance petition'
In a statement Wednesday, Marcos' spokesperson, lawyer Victor Rodriguez said they would address "this predictable nuisance petition" at the proper time and forum after they have received the official copy.
"Until then, we will refrain from commenting on their propaganda. Our camp does not engage in gutter politics. Our campaign is about nation building," he said in a statement. "For presidential aspirant Bongbong Marcos, this election is about the future of the Filipino people."
Marcos was among the 97 aspirants who filed their COCs for president during the filing period early in October.
Last week, the Comelec released the tentative list of national and local candidates for correction on their names that will appear on the ballot. (PNA)