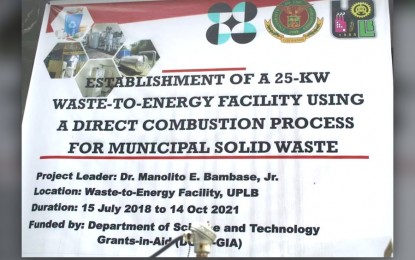 MANILA – Department of Science and Technology (DOST) Secretary Fortunato dela Peña said having waste-to-energy (WTE) technology in the country has been one of his wishes at the start of his term.
"Our neighboring countries like Singapore and Taiwan have functioning WTE facilities, so why can't we do it here in the country?," he said in his Facebook post.
Earlier this week, dela Peña said he was able to see that vision finally fulfilled when he visited and inspected a fully-functioning WTE facility in Los Baños, Laguna.
"DOST supported the establishment of the 25kW waste-to-energy facility using a direct combustion process for municipal solid waste as a possible solution to ever-increasing municipal solid waste production in the country," he said.
Dela Peña said the direct combustion system will be fed with solid wastes generated by the University of the Philippines Los Baños (UPLB). The combustible fraction of the solid waste will be fed into a combustion chamber with a moving grate and the heat from the resulting flue gas is used to produce hot water, which provides the needed heat for the ORC generator to generate up to 25kW power.
He said the gas emissions during combustion will be monitored using a continuous emission monitoring system (CEMS) and Gas Chromatograph-Multi Spectrometer (GC-MS).
The technical study will primarily focus on the efficiency of the energy recovery as power from municipal solid waste to assess whether a WTE direct combustion technology is feasible in the Philippines. Mitigation control steps for the gas emission will also be evaluated to ensure the process will be environmentally acceptable, he added.
The two-year project aims to:
◾️Establish a 25-kW waste-to-energy (WTE) facility for municipal solid waste based on a direct combustion technology;
◾️Monitor and characterize the flue gas emissions generated by the WTE process;
◾️Assess the economic viability and environmental impacts of the WTE process; and
◾️Provide action plans and recommendations for the implementation of a WTE direct combustion process as a potential option of municipal solid waste management in the Philippines.
Dela Peña said policy makers, government institutions, lawmakers, and the energy sector in the country can also benefit from this initiative.
"In the municipality level, the proposed technology can be utilized to resolve the issue of waste disposal of the university and of Los Baños. The facility can be used to treat the wastes of the university and its nearby communities," he said.
Waste generation in the Philippines has been rapidly increasing and has become a major problem especially in highly populated areas such as Metro Manila, Southern Tagalog, and Central Luzon. The significant increase is mainly due to rapid population growth, urbanization, and economic development.
"We expect that this project will provide a science-based data on waste-to-energy technology through direct combustion system, aid in solid waste management scheme of the country by providing a technology that is compliant to international environmental standards, and aid in the assessment and improvement of WTE technologies and possibly revive the incineration plants in the country," he said. (PR)