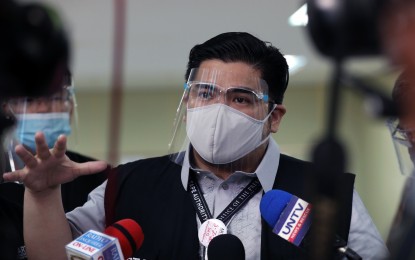 MANILA – Anti-Red Tape Authority (ARTA) director general Jeremiah Belgica has called on the Philippine Health Insurance Corp. (PhilHealth) to follow its own Charter of releasing claims within 60 days.
In an interview with Radyo5 Wednesday, Belgica said PhilHealth seems to be "burning the house down to kill a rat" with its medical prepayment review that becomes a bottleneck in payment disbursement to hospitals.
He said PhilHealth explained that it is doing the prepayment review to avoid questionable disbursement.
"We made a computation of instances of fraudulence, those that jack up the prices. It turns out that only 0.8 percent in general is attributable to what they call wrong diagnosis," Belgica said in Filipino. "Maybe it's better to do a post-audit since the risk is very low."
Earlier, ARTA recommended to PhilHealth to disburse at least 60 percent of the total claims as initial payment then continue with the medical review.
But Belgica said ARTA has also suggested repealing the medical review being done by physicians in PhilHealth since the diagnosis submitted to the agency were done by doctors who are also specialists in their respective fields.
On Tuesday, ARTA served a show-cause order against two officials of PhilHealth Region 6 due to delays in the disbursement of payment to seven hospitals in Iloilo.
The total claims of the seven hospitals amounted to over PHP690 million. (PNA)