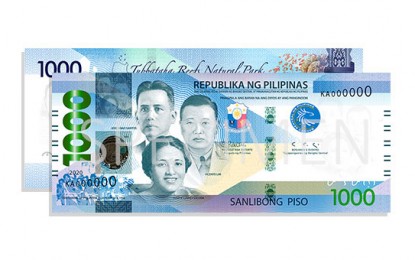 BURAUEN, Leyte – The Philippine Fiber Industry Development Authority (PHilFIDA) is opposing plans to shift to polymer plastic from abaca fiber in the production of banknotes starting next year.
The move is a setback in the global drive to promote renewable, sustainable, and eco-friendly products, said PhilFIDA executive director Kennedy Costales in an interview Wednesday during a forum with abaca farmers here.
"BSP (Bangko Sentral ng Pilipinas) promotes plastic by shifting to polymer banknotes versus the biodegradable abaca which is the strongest, the longest and the most porous natural fiber in the world. Not to mention its permeability and excellent tear and bursting. It's our job to protect our homegrown industry,"1 Costales told the Philippine News Agency (PNA).
Currently, Philippine banknotes are made principally of 80 percent cotton and 20 percent abaca.
The BSP needs 100 to 150 metric tons of abaca fiber every year to produce bills, a small fraction of the 70,000 metric tons annual abaca production, according to PhilFIDA.
"Volume used is immaterial. The most important is that there is no substitute for our precious abaca but BSP wishes to replace it by promoting plastic on our banknotes to the world. The Philippines has about 35 natural fibers in its list but BSP prefers plastic," Costales added.
BSP Deputy Governor Mamerto Tangonan announced in a meeting on Oct. 25 that it will pilot-test starting in the first half of 2022 the use of PHP1,000 polymer notes that are deemed to be cleaner, cheaper, stronger, and smarter than paper bills.
The BSP has studied the experience of Canada, Australia, New Zealand, Mexico, among others, in its bid to use polymer banknotes, Tangonan said.
Tangonan said polymer banknotes have around 2.5 to four times longer lifespan than paper bills because it is water- and dirt-resistant and can be safely sanitized, a trend during the pandemic.
"If they really want to test the banknote's lifespan, they have to try it with widely-circulated denominations such as PHP50 and PHP100. Not all Filipinos got the chance to hold PHP1,000," Costales added.
Earlier, the PhilFIDA and Philippine Council for Agriculture and Fisheries issued a position paper recommending to the BSP to retain abaca fiber in the production of Philippine banknotes in support of local farmers.
The recommendation prompted the BSP to set a virtual meeting with PhilFIDA on Oct. 25, but it was rescheduled to the second week of January, a move tagged by Costales as "railroading" since the pilot test is already ongoing by that time.
Tangonan said while the BSP shifts to the use of polymer banknotes, it continues to help the abaca farming sector by buying their products for corporate giveaways.
It has also started to work with other government agencies, such as the Land Registration Authority (LRA) and the Department of Foreign Affairs (DFA), regarding the use of abaca substrate for papers and documents for these to be more durable, according to the BSP official. (PNA)