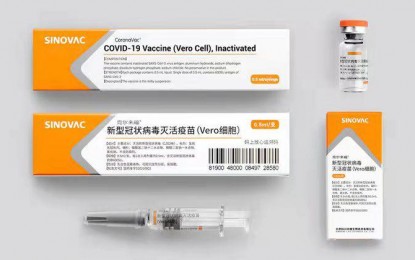 MANILA – The Chinese government is donating 2 million more doses of Sinovac vaccine to the Philippines, raising its total contribution to Manila to 5 million.
"Last night, Secretary (Carlito) Galvez announced that the Chinese government will be donating another 2 million vaccine doses to the Philippines. To respond to many of my followers here in our community, I would like to confirm the news," Chinese Ambassador Huang Xilian said Thursday.
Huang said both the Philippine and Chinese sides are working closely to facilitate the delivery as soon as possible.
"I am relieved to notice that the number of cases is going down in the Philippines. I hope that the ongoing vaccination roll-out will promote the early economic and social recovery in this country," he said, adding China will continue to support Manila's fight against Covid-19.
The announcement came more than a week after Beijing shipped freshly donated vaccines to Manila last Oct. 24.
The additional jabs are expected to boost the country's pandemic response as the government ramps up its vaccination efforts.
According to the latest data from the National Task Force against Covid-19, an average of 511,434 jabs per day are being administered in the Philippines.
As of October 2021, some 27,749,809 people have already received their full dose of the Covid-19 vaccine, eight months since the first vaccine shipment arrived in Manila. (PNA)