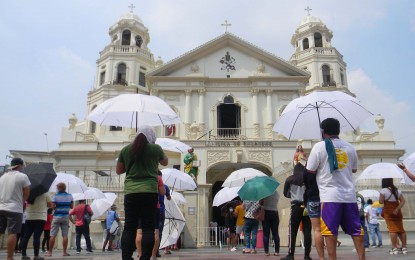 MANILA – Catholic priests on Friday welcomed the decision of the government to downgrade the National Capital Region (NCR) from Alert Level 3 to the more relaxed Alert Level 2.
Rev. Fr. Douglas Badong, the parochial vicar of the Minor Basilica of the Black Nazarene in Quiapo, said the same policy would be implemented inside the church but the number of devotees would increase.
"More people are allowed to enter now. The policy is still the same – only the number of people admitted has increased," Badong said in a text message.
He added that with the new alert level status, the allowed capacity inside churches is now 70 percent.
"(The) 70 percent (seating capacity is) with physical distancing. Four people are now allowed on each pew compared to before with only three individuals," he said.
Badong noted that devotees would still be required to present their vaccination cards before they are allowed inside the church, while those unvaccinated would not be allowed to enter.
"They are still looking for a vaccine card. It's the same as before, vaccinated are allowed inside, those not vaccinated have to be outside," he said.
On the other hand, Fr. Jerome Secillano, executive secretary of the Catholic Bishops' Conference of the Philippines - Permanent Committee on Public Affairs, said it would be good for more Catholics as they would be able to go to church again.
"It's a big opportunity for the faithful to finally go out and hear Mass in churches," Secillano said in a separate text message.
Meanwhile, the Philippine National Police (PNP) said it would continue to implement minimum health protocols despite the more relaxed quarantine status in Metro Manila.
"The PNP has long been ready for this eventuality," PNP Chief Gen. Guillermo Eleazar said in a statement.
This came as more people, including minors, are expected to flock to public places, such as malls, churches, and other recreation facilities across the region due to the downgraded alert level.
He added that the improving coronavirus disease 2019 (Covid-19) situation in Metro Manila has allowed the government to further ease restrictions.
Metro Manila will be under Alert Level 2 until November 21. (with Lloyd Caliwan/PNA)