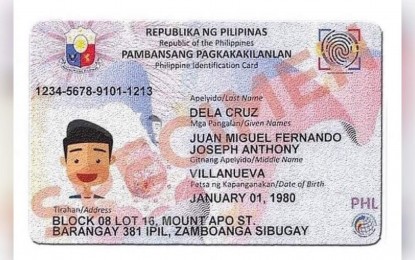 DAVAO CITY – An official of the Philippine Statistics Authority (PSA) asked for patience as the delivery of the Philippine Identification (PhilID) card or the national ID to registrants by the Philippine Postal Corporation (PHLPost) experiences delay.
Randolph Anthony Gales, Provincial Statistics Officer of Davao City and Davao del Sur, said in a recent interview the PSA-Region 11 has been receiving complaints regarding the slow pace in the delivery of PhilID cards.
Some said they read an advisory online that their IDs have been released but they still do not have them.
Gales said the PSA has no more control over the PhilID cards once the Step 1 (demographic) and Step 2 (biometrics) registrations of the Philippine Identification System (PhilSys) are done.
The PSA will forward the data to the Bangko Sentral ng Pilipinas for printing after which it will be dispatched to PHLPost for delivery.
"We will just have to wait for our PhilID. It will arrive," Gales said in a radio interview last month.
He added that PSA employees themselves are also still waiting for their national ID cards.
Gales said the PSA is fine-tuning the tracking system for registrants to at least be aware of the status of their PhilID cards.
"There are a lot of factors affecting the delivery of the PhilIDs but PSA assures the registrants that PHLPost is doing its obligation to deliver the IDs," Gales said.
As of September 22, a total of 5,024,018 PhilID cards have been sent to PHLPost for delivery while 1.9 million have reached the registrants.
Signed into law by President Rodrigo R. Duterte in August 2018, Republic Act 11055 or the PhilSys Act aims to establish a single national ID for all Filipinos and resident aliens.
The national ID shall be a valid proof of identity that shall be a means of simplifying public and private transactions, enrollment in schools, and the opening of bank accounts.
It also seeks to boost efficiency, especially in dealing with government services where people will only need to present one ID during transactions. (PNA)