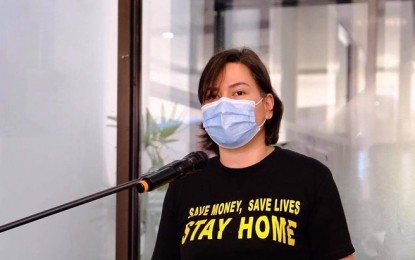 DAVAO CITY – The current downtrend in coronavirus disease 2019 (Covid-19) cases in this city could be attributed to the increasing number of vaccinated residents, Mayor Sara Z. Duterte said Monday.
In a radio interview, she said a total of 909,149 or 69.94 percent of Dabawenyos have been given the first dose, while 836,122 or 64.32 percent are fully vaccinated.
"We saw a continuing decrease of cases and hopefully it will stay that way. Based on my assessment, I can say that it is because of the vaccination," she said.
Duterte observed that cases dipped faster after the vaccination program was rolled out, compared to when the city was relying only on the government-imposed quarantine and health protocols.
"There are times that it has decreased but not that fast because the people have low compliance on the guidelines during the community quarantine. Unlike now that most are vaccinated, we saw a downtrend," she added.
Despite the development, she said the city government continues to help the city's vaccination cluster.
The prevention and enforcement cluster, on the other hand, continued to emphasize to the public to follow the minimum standard health standards.
"We also continue to inform the public the importance of having proper ventilation by opening their windows in their offices. To counter misinformation about the vaccine, we also send somebody to talk to them," Duterte said. (PNA)