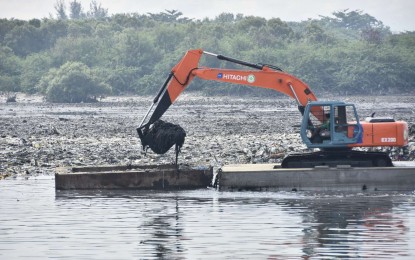 MANILA – An official of Metropolitan Manila Development Authority (MMDA) on Monday vowed to remove the "garbage island" at the mouth of the Parañaque River as part of the agency's flood control measures.
During the inspection of the desilting operations, MMDA Chair Benjamin "Benhur" Abalos Jr. said it would take about three to four months to eradicate the island, made up of about 26,000 cubic meters of garbage and silt.
He noted that shanties have already been constructed on the island and are used as a resting place by fishermen.
"If we don't act on this, more structures will be built in the area. But the most alarming possibility is its effect on the water flow along the river and the waste will be very toxic to the community and surrounding waters," Abalos said.
He asked the public to help in the cleanup and maintenance of Metro Manila by disposing of their garbage responsibly and reporting clogged waterways.
"I call on everyone to report to the MMDA problems like this where there is a mass of garbage that needs to be addressed and removed immediately," Abalos said.
To date, he said there are 30 trash nets installed in canals and esteros throughout Metro Manila that are being cleared by MMDA personnel every three days to avoid damage to pumping stations. (PNA)