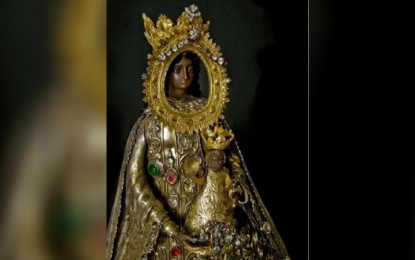 MANILA – A woman diagnosed with Stage 3 breast cancer barely a month after the coronavirus disease 2019 (Covid-19) pandemic, claimed to have been healed of the deadly disease through the intercession of Nuestra Señora de la Salud (Our Lady of Health), the other name of the Blessed Virgin Mary.
Tita Nene Fernandez made her testimony in a letter she sent to the San Nicolas Catholic Parish Church in Barangay Bahay Toro in Project 6, Quezon City on Monday at the start of the annual 9-day Novena of Nuestra de la Salud whose feast day falls on Nov. 17.
Her testimony was read during the homily of the Novena Mass attended by devotees of Nuestra de la Salud.
"Barely a month after Covid-19 disturbed the world, my personal disturbance came when I was diagnosed with Stage 3 breast cancer," Fernandez said.
"My immediate reaction was I will survive this while simultaneously looking at the image of Mama Mary and in my mind told her, 'I can do this with you'," she added with great faith in her heart.
Fernandez said she went to the hospital for treatment and underwent ultrasound, initially 12 cycles of chemotherapy to reduce the size of the tumor prior to surgery, and another 30 days of radiation, and 18 more cycles of targeted chemotherapy, bone scan and monthly breast and liver ultrasound and chest x-ray for 18 long months.
It was an agonizing experience, but Fernandez said, "I never felt a day of fear, anxiety and hopelessness during the treatment despite losing my hair, dark and brown nails, and countless discomforts."
"I simply asked our Lady of Health to help me bear the pain and accompany me in my hospital visits for needed procedure or treatment, and to touch all the results," she said in her daily prayer.
Well in the Holy Book, Fernandez quote Jeremiah 33:6 of the Bible which says "I will bring health. I will heal people and let them enjoy abundant peace and security."
Her continuous prayer of healing was not in vain when she underwent another ultrasound and chest x-ray to check the presence of cancer cells, her doctors told her that the results of her series of "medical tests were great!"
"My medical oncologist told me 'Maam parang dumaan lang sayo ang cancer! (Maam, it looks like the cancer just passed through you)," she said.
In fact, "I was 99 percent cancer disease free," she added, thanking the Blessed Virgin Mary for healing her. "Indeed, Our Lady of Health never left me during my treatment. She was my health, my life and my hope. My faith healed me."
There have been countless miracle healings attributed to Nuestra de la Salud since devotion to her was revived in 2017 by the Catholic Church after in hibernation for 72 years following the Battle of Manila in 1944 in World War 2 wherein the holy statue of Our Lady of Health survived unscathed despite the heavy bombings during the fighting between American and Japanese forces.
Indeed, devotion to the Nuestra de la Salud has been proven for 397 years as a powerful prayer to the sick, particularly the gravely ones.
Last year, the novena was suspended due to Covid-19 outbreak, but this year, the San Nicolas Parish Church resumed the devotion after the virus has been partly contained. (PNA)