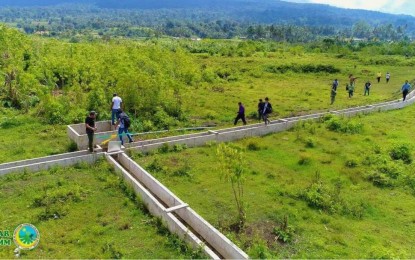 COTABATO CITY – Some 1,500 farmers in two Lanao del Sur towns are expected to boost their rice production with the operation of the PHP10-million Bangsamoro Autonomous Region in Muslim Mindanao (BARMM) solar-powered irrigation system (SPIS).
Ministry of Agriculture, Fisheries and Agrarian Reform (MAFAR) – BARMM Minister Mohammad S. Yacob said Tuesday that the project has solar panels and 20 horsepower (HP) generation capacity, capable of accumulating 3.5 cubic meters of water per minute with 660 cubic meters that can supply water for 50 to 70 hectares of paddy fields.
"We hope that the project will succeed and become a model for uplifting the livelihood of farmers in Lanao Del Sur, as well as in the whole Bangsamoro Region," he said in a statement.
On Monday, the MAFAR-BARMM, through the Task Force Bangon Marawi (TFBM), turned over the first SPIS for rice farmers in the two neighboring upland towns of Butig and Sultan Dumalondong in Lanao Del Sur.
The SPIS, which was funded under MAFAR-TFBM, aims to alleviate the farmers' water shortage problem.
Primary beneficiaries of the project are some 1,000 rice farmers in adjoining Barangays Cabasaran and Sumalindaw in the town of Butig, and Barangay Malalis in the town of Sultan Dumalondong, all in Lanao del Sur.
In a phone interview Tuesday, Kagi Romar, a farmer in Butig, said he was teary-eyed while patiently waiting for the completion of the first-ever solar-powered water system for rice farmers in their town.
Romar said he never thought government services for farmers, like irrigation, would reach his village.
"We rely on rains, if there's no rain, there is no opportunity for planting," he said in the vernacular.
For years, the water shortage has been the main problem besetting farmers in upland and isolated Lanao del Sur towns.
With the project, Butig Mayor Dimnatang L. Pansar was so grateful to MAFAR and TFBM for prioritizing his town for the project as it gave their communities a new lease on life.
"I hope that the municipality of Butig will be able to produce more rice and in the future, we will become one of the major producers of rice not only in Lanao Del Sur but also in the entire BARMM," Pansar said in a statement.
In July this year, former Mindanao Development Authority Secretary Emmanuel Piñol, along with Mayor Nashiba Sumagayan and Vice Mayor Odin Sumagayan of Taraka municipality, also led the opening of the water pipes from SPIS units designed to irrigate between 600 to 1,000 hectares of farmlands in their town. (PNA)